Inspiring Students in Radio Science and Wireless Technology
"Today, the ARRL Education & Technology Program has become a flourishing and highly respected program that has brought Amateur Radio and Wireless Technology to thousands of young people in hundreds of schools across the country. How? By giving teachers the knowledge, skills, and materials they need to give hands-on STEM experiences to their students... This extraordinary program is made possible entirely through members' contributions."   - Former ARRL President, Kay Craigie, N3KN
Kay and her husband, Carter N3AO, are leading donors to the ETP.  Read Kay's letter to members with her appeal for your support.
Read mathematics teacher, Paul Braiman, W2PIR's note of thanks for the training and resources offered by ARRL's Teachers Institute on Wireless Technology.
Your contribution to support ARRL's successful efforts to promote Amateur Radio through stations in schools and to provide professional development for teachers in wireless technology is needed now. 

Clubs or individuals may want to consider funding a seat at the Teachers Institute as a way of making a specific, concrete contribution to educational outreach.
The Teachers Institute Includes Theory and Practice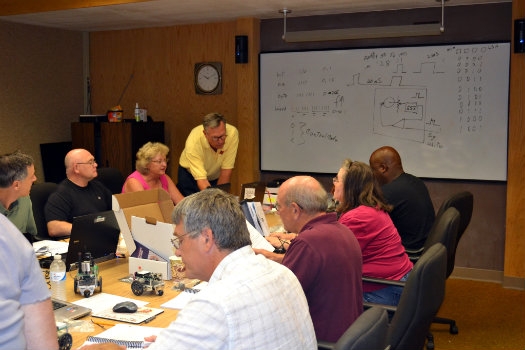 In 2000 former ARRL President Jim Haynie, W5JBP launched the Education & Technology Program. Since then, ARRL has expanded the scope of its educational initiatives. Grants of station equipment, instructional resources or opportunities for professional development have been awarded to hundreds of schools—with more schools added each year.
In 2004 ARRL launched the highly successful teacher professional development program in electronics, ham radio, robotics and space communications—the Teachers Institute on Wireless Technology. With a broader objective of promoting wireless technology literacy the four-day seminar has provided teachers from elementary school to the university level with basic tools and teaching strategies to introduce the science of radio, space technology, weather, microcontroller basics and robotics in their classrooms.
Hands-on instruction during the Teachers Institute includes learning how to solder by building a 24-hour clock. The teachers conduct a fox-hunt activity, participate in ham satellite contacts, and observe the collection of satellite imagery transmitted by NOAA satellites. They also assemble a robot and learn how to program a microcontroller to guide the robot through a maze. The next step is to control the robot with commands sent by ham radio using APRS! These are all activities teachers will use to engage students with interactive learning when they return to their classrooms.  
In 2009 we offered the first advanced Teachers Institute program, called TI-2, to focus training for previous Teachers Institute graduates on Space in the Classroom. One of the goals of this seminar is to prepare schools for ARISS contacts.  In 2013 we introduced an advanced TI-2 focused on using electronic sensors and ham radio for data transmission. The seminar is aptly named, Remote Sensing and Data Gathering.        
The program continues to provide school station equipment grants and smaller resource grants to schools that demonstrate a plan for educational engagement.  Thus far, the ETP has provided resources and/or training to more than 500 schools and 650 teachers.                   
The future of this exciting educational program will only be as promising as your generous financial contributions will support. The accomplishments of the Education & Technology Program are a direct result of the generosity of thousands of radio amateurs. 
Questions about the Education & Technology Fund? Call the Development Office at (860) 594-0291.

ARRL is an IRS-designated 501(c)(3) organization holding Federal tax ID #06-6000004.  Contributions to ARRL are tax deductible to the extent allowed by law.