The 2017 ARRL Spectrum Defense Fund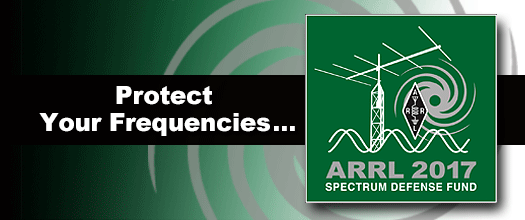 Thanks to the support of ARRL members, ARRL has maintained constant vigilance and taken decisive action throughout the years, including:
Defeating the threat that Little Leo satellites posed to the 2-meter and 70-cm bands;
Removing high-powered international broadcasting stations from the heart of the 40-meter band - doubling the size of the worldwide band and making it more useful than it had been in 70 years;
Working with our colleagues in the International Amateur Radio Union to gain global allocations at 135 kHz and 472 kHz (domestic implemenation is the next step);
Battling the Broadband Over PowerLine (BPL) interference for six years including successfully challenging the FCC in court on its prejudice that tainted the rulemaking process; and
Defending microwave allocations against the onslaught of commercial wireless broadband;
Seeking an international allocation at 60 meters (5 mHz).
Your contribution to the Spectrum Defense Fund ensures that ARRL will have the resources to meet future challenges when they appear and to protect your operating privileges. Click here to make your gift today!
Important Message from Former CEO David Sumner, K1ZZ
To all ARRL  Members -  
The simple fact that Amateur Radio exists never ceases to amaze me.
We tend to take for granted that as private individuals, we can buy or build radio transmitters and can use them to talk to our counterparts around town, across the country, and on the other side of the world – even to astronauts in space.
But it could have been different. We might never have known these pleasures.
At the dawn of the age of radio more than a century ago there were powerful forces that opposed the use of radio by amateurs. Radio was for maritime safety, for commerce, or for the military. Surely these purposes were too important to risk interference from mere hobbyists!
What if no one had accepted the challenge to answer such arguments? What if the earliest radio amateurs had not compiled a record of service to the public and to their country? What if amateur experimenters had not been the first to appreciate the true value of the short waves? What if, 90 years ago, the radio amateurs of the world had not organized the International Amateur Radio Union to be their global voice?
What if? The answer is simple, stark, and unpleasant: You and I would have missed out on the enrichment that Amateur Radio has brought to our lives.
We owe past generations an enormous debt. The only way we can repay that debt is to protect and build upon their legacy – not only for ourselves, but for generations to come.
This is the vision that has guided the leaders and members of the ARRL for more than a century.
Last year we celebrated together as the ARRL marked the 100th anniversary of its founding. It was a great party, both on the air and in person at the National and six regional Centennial Conventions. Together, with great pride in the past and great hope for the future, we have launched our national association into its second century of promoting and advancing the art, science, and enjoyment of Amateur Radio.
But the challenges we face have never been greater. That is why I am writing to you today, to ask for your support of the ARRL Spectrum Defense Fund.
Now in its 20th year, the Spectrum Defense Fund is a vital resource. Through your voluntary contributions above and beyond ARRL membership dues, you support the ARRL professional staff and IARU volunteers who devote their time and talent to the protection and expansion of your access, as a licensed amateur, to the radio spectrum.
The frequency allocations we now enjoy didn't just happen. It took an enormous effort, mainly through the work of the ARRL, for amateurs to regain spectrum access after World War I. A decade later, a similar effort was needed to persuade the nations of the world that there was value in allowing Amateur Radio to develop on a global basis. Ever since, the ARRL and its sister IARU societies in other countries have continued to work together on behalf of all radio amateurs.
This year is especially important. Every four years or so, the International Telecommunication Union holds a World Radiocommunication Conference, or WRC, where parts of the international Radio Regulations are reviewed and updated. The next one, WRC-15, is in November of this year. Preparations – technical studies and meetings – have been under way for more than 3 years.
Every WRC agenda poses threats to Amateur Radio allocations. New, spectrum-hungry technologies are being developed every day. As consumers we benefit from many of them – but they also compete with us for spectrum.
WRCs also can present opportunities. At WRC-03 we achieved a major improvement in the 40 meter band. Broadcasters were told to move out of 7100-7200 kHz – and when the new regulations took effect in 2009, nearly all of them did.
The WRC-15 agenda includes consideration of a new allocation for Amateur Radio near 5 MHz. We gained a toehold here in 2003 when federal government spectrum managers agreed to let the FCC give us access to five SSB channels on a strict non-interference basis. In 2012 we were able to negotiate for additional modes and a little more power. An international allocation of an actual band would be a big improvement. It's an uphill battle with no guarantee of success, but the ARRL and the IARU are doing their very best.
You can help. With a contribution to the Spectrum Defense Fund – whatever is within your means – you become a partner in the WRC-15 effort and in every other endeavor to protect and improve the ham bands.
Please be as generous as you can. The access to the radio spectrum that we enjoy is a priceless national and international resource. If we lose it, we lose it forever.
Sincere 73,
David Sumner, K1ZZ
ARRL Chief Executive Officer
April 2015