The 2021 ARRL Spectrum Defense Fund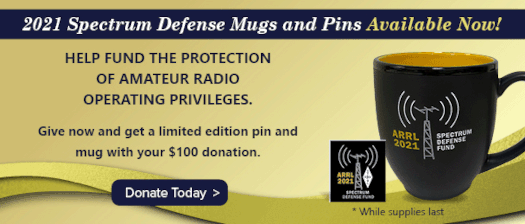 Thanks to the support of ARRL members, ARRL has maintained constant vigilance and taken decisive action throughout the years, including:
Defeating the threat that Little Leo satellites posed to the 2-meter and 70-cm bands;
Removing high-powered international broadcasting stations from the heart of the 40-meter band - doubling the size of the worldwide band and making it more useful than it had been in 70 years;
Working with our colleagues in the International Amateur Radio Union to gain global allocations at 135 kHz and 472 kHz (domestic implemenation is the next step);
Battling the Broadband Over PowerLine (BPL) interference for six years including successfully challenging the FCC in court on its prejudice that tainted the rulemaking process; and
Defending microwave allocations against the onslaught of commercial wireless broadband;
Seeking an international allocation at 60 meters (5 mHz).
Your contribution to the Spectrum Defense Fund ensures that ARRL will have the resources to meet future challenges when they appear and to protect your operating privileges. Click here to make your gift today!
Important Message from ARRL CEO David Minster, NA2AA
Dear Fellow Member:
From the very beginning of amateur radio's existence, ARRL has had to take the lead in defending our spectrum.  From more than a decade ago when ARRL had to persuade the US government to give back spectrum it took away during World War I, to recent ARRL work on Broadband Over Power Lines that kept a radio-polluting technology from using the amateur bands worldwide, our work continues to this day, with technologies such as solar power, wireless power transfer charging, and a proliferation of new lighting devices as present-day challenges that must be faced and resolved. 
Every year we engage paid and volunteer professionals who advocate both nationally and internationally for us within a complex web of commercial and governmental bodies.  This effort is no small feat.  ARRL annual dues could never cover the expenses associated with their efforts.
I am writing you today to ask for your generous support of these efforts by contributing to the ARRL 2022 Spectrum Defense Fund.
The diagram below is telling.  It demonstrates the intricate environment that ARRL must operate within to remain vigilant of both existing and potential threats to amateur spectrum, while at the same time seeking partners who will work with us on mutually agreeable solutions to sharing spectrum and resolving the inevitable incompatibilities that arise from the radio noise that almost all of today's devices create.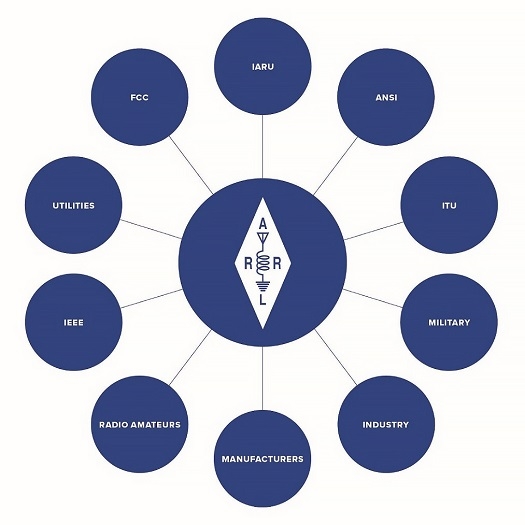 Helping industry and regulators understand what is necessary for writing appropriate regulations and creating good designs that allow electronics technology to coexist with radio technology is a role that ARRL is uniquely positioned to fulfill.  In many cases, ARRL is the common ground between this network of groups and organizations, serving as the hub, the connector, bringing together those necessary to solve problems and create industry standards that ensure compatibility. This is an important role that demonstrates to industry and regulators the ways that amateur radio continues its long tradition of making contributions to the state of the radio and technical arts.  For this reason, ARRL is invited to take leadership positions in many of these industry groups, claiming a seat at the table to ensure that decisions are made that fully include the needs of amateur radio and its operators.
It's unfortunate that much of ARRL's advocacy on behalf of all radio amateurs often goes unnoticed. That's why I'm writing you because I know our members "get it." Protecting radio spectrum and advocating on behalf of amateur radio requires our vigilance – 365 days a year. Sometimes it's expert testimony prepared by an ARRL Lab engineer on a matter involving harmful interference caused by power-line noise. Or our supporting (and financial) responsibility as an IARU member-society to safeguard amateur radio allocations on the international stage.
2022 is going to be a busy year for spectrum defense.  We continue to deal with the introduction of myriad new devices that cause RFI on the bands.  At the same time, 5G and newer cellular technologies are looking for greater spectrum in the GHz range as Americans continue to demand faster data rates and better coverage for their phones and devices.  ARRL recently submitted comments regarding the U.S. positions for the forthcoming WRC-23 conference.  And with high-speed internet now available from low-earth orbiting satellites, there is an increased interest in providing satellite communications with greater spectrum for experimentation and expansion.
Amateur radio's future depends on our free access to radio spectrum so that we, and future generations, can continue to practice our skills, to serve our communities When All Else Fails®, and to contribute in meaningful ways to the development of wireless technology.
So, how can you help?  Here is your chance.  Keep informed about the many Spectrum Defense initiatives ARRL is involved with, feel free to reach out to the ARRL Lab with your own concerns, and please take the opportunity to make a generous contribution to our Spectrum Defense fund to enable ARRL's continued involvement and efforts on your behalf.
Very 73.
David A. Minster, NA2AA
ARRL CEO