The 2021 ARRL Spectrum Defense Fund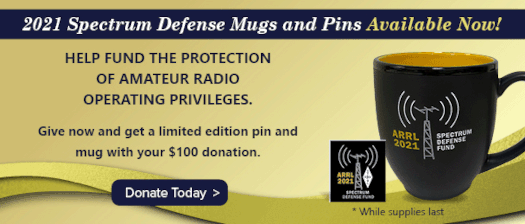 Thanks to the support of ARRL members, ARRL has maintained constant vigilance and taken decisive action throughout the years, including:
Defeating the threat that Little Leo satellites posed to the 2-meter and 70-cm bands;
Removing high-powered international broadcasting stations from the heart of the 40-meter band - doubling the size of the worldwide band and making it more useful than it had been in 70 years;
Working with our colleagues in the International Amateur Radio Union to gain global allocations at 135 kHz and 472 kHz (domestic implemenation is the next step);
Battling the Broadband Over PowerLine (BPL) interference for six years including successfully challenging the FCC in court on its prejudice that tainted the rulemaking process; and
Defending microwave allocations against the onslaught of commercial wireless broadband;
Seeking an international allocation at 60 meters (5 mHz).
Your contribution to the Spectrum Defense Fund ensures that ARRL will have the resources to meet future challenges when they appear and to protect your operating privileges. Click here to make your gift today!
Important Message from ARRL President Rick Roderick K5UR
Dear Fellow League Member:
As is almost always the case, there are new threats at our doorstep.
A short list of current domestic spectrum threats and opportunities includes:
·         The National Telecommunications Information Administration is considering using the top 500 MHz (25 percent) of our 9 mm band (3300-3500 MHz) for wireless broadband.
·         The Federal Communications Commission (FCC) is proposing in Docket 18-21 to allow unlimited Part 15 devices and experimental licenses in the four amateur bands above 95 GHz, two of which are primary allocations.
·         A Texas company has proposed experimental operation in the 160-meter band using a 50 kilowatt broadcast transmitter to test surface wave propagation for a new product.
·         The FCC, in a new docket, is considering the extent to which commercial entities can use amateur spectrum on an experimental basis for commercial cubesats. 
·         ARRL is attempting to obtain early access to the new contiguous band at 5 MHz with a power level that will make the band useful to hams in the United States. 
·         A for-profit company is attempting to use the amateur 10 GHz band for commercial broadband purposes.  We are attempting to retain access to the 5850-5925 MHz band in the face of proposals to allocate that segment to intelligent transportation systems and, again, commercial broadband.
·         And, the flood of illegal RF lighting devices that wipe out LF, MF, and HF and even VHF communications throughout entire communities is still going on, though ARRL has been very effective in raising the FCC's awareness of this issue. The FCC Office of Engineering and Technology is studying RF lighting device interference to telecommunications generally right now.
This is just a small sample of the spectrum protection issues that ARRL faces every single day. There are others. Earlier this year, a well-known American corporation began making its case to the Federal Communications Commission for additional frequencies for new products they have in mind – products that seriously endanger the HF bands, the 160-meter band, and also one of our newest bands:  2,200 meters.  The technology they wish to use, known as Wireless Power Transmission (WPT), has the potential to have an enormous impact on our allocations. You don't have to be a telecommunications engineer to realize that the widespread application of Wireless Power Transmission would generate extraordinary levels of interference in our bands.
ARRL's spectrum defense work is not only at the FCC and at NTIA. It is a worldwide effort.
In just a few months, the World Radiocommunication Conference 2019 (known simply as WRC-19) will be held in Egypt. Several vitally important items will be on the agenda. These include Intelligent Transportation Systems (ITS); Railway: train – trackside (Mobile Service allocations); Wireless Access Systems (WAS/RLAN), and the Space Operation Service (non-GSO satellites).  Many of our bands are on the table, and spectrum threats develop literally overnight during the Conference.
The major threat to the amateur bands at the Conference is what is known as International Mobile Telecommunications 2020 (IMT). On the WRC-19 agenda, it is referred to as WRC-19 item 1.13.
There is no doubt that the Conference will make new allocations for Mobile Service for IMT applications – and they are expected to be very large allocations. The questions everyone is asking are: How much spectrum will be required, and which radio services will suffer the greatest losses?
You can be sure ARRL will be vigilant during these discussions. We will be watching for threats to the Amateur Radio and Amateur Satellite Service bands as low as LF and up to and including 24 – 24.25 GHz, 47 – 47.2 GHz, and 76 – 81 GHz. Representatives from ARRL and the International Amateur Radio Union are already preparing for the Conference. You can count on them to do everything necessary to represent you and protect our priceless avocation.
Countering these threats at home and abroad isn't easy. We will be up against large corporations and telecommunications giants whose unlimited resources allow them to exert a powerful advocacy influence on the FCC and the WRC. What we offer as a balance to that is the inherent value of Amateur Radio in emergency communications and disaster relief.  Large-scale advocacy efforts such as these are most expensive, so I am asking for your assistance.
Help us protect Amateur Radio's future. Make your contribution to the Spectrum Defense Fund and send a positive message of support to our domestic and international teams.
I've made my donation, and I hope you will too. Thank you!
73,
 
Rick Roderick, K5UR                                       
ARRL President