The 2018 ARRL Spectrum Defense Fund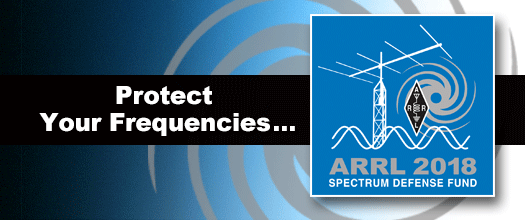 Thanks to the support of ARRL members, ARRL has maintained constant vigilance and taken decisive action throughout the years, including:
Defeating the threat that Little Leo satellites posed to the 2-meter and 70-cm bands;
Removing high-powered international broadcasting stations from the heart of the 40-meter band - doubling the size of the worldwide band and making it more useful than it had been in 70 years;
Working with our colleagues in the International Amateur Radio Union to gain global allocations at 135 kHz and 472 kHz (domestic implemenation is the next step);
Battling the Broadband Over PowerLine (BPL) interference for six years including successfully challenging the FCC in court on its prejudice that tainted the rulemaking process; and
Defending microwave allocations against the onslaught of commercial wireless broadband;
Seeking an international allocation at 60 meters (5 mHz).
Your contribution to the Spectrum Defense Fund ensures that ARRL will have the resources to meet future challenges when they appear and to protect your operating privileges. Click here to make your gift today!
Important Message from ARRL CEO Tom Gallagher, NY2RF
To all ARRL  Members -  
For over 100 years, ARRL has led the defense of our most valuable resource — spectrum. I ask you to continue generously supporting our efforts by making a contribution to the ARRL 2017 Spectrum Defense Fund.
Traditionally, our efforts have focused on preserving and, where possible, expanding our existing allocations. Today, we also bear the added burden of maintaining the viability of our existing allocations and defending them from insidious forces, such as noise, that degrade their value.
Most troubling is, of course, the rising noise floor level we are experiencing. This results from a variety of sources, including non-compliant power supplies, especially in lighting appliances. Add this to the perennial difficulties presented by faulty electrical power systems, and you will appreciate how their impact corrodes the usefulness of our existing spectrum. We ought to be mindful that spectrum degraded by noise is as good as lost forever.
The effects of uncontained noise pollution are cumulative over time. As the number of non-compliant devices grows, the problem becomes increasingly troublesome. There's a double whammy in the growth of non-compliant devices: as the public's investment in these appliances increases, it becomes increasingly difficult to ban them, eliminate them, or require users to modify them.
Our efforts on behalf of spectrum take many forms. The ARRL Laboratory team are leading subject matter experts in Electro-Magnetic Compatibility. Collaborating with a variety of other interested parties like the Institute of Electrical and Electronics Engineers (IEEE) and the broadcasting industry, the ARRL Lab endeavors to identify and classify noise patterns, set national standards for noise levels and occasionally track down problematic noise as it did in Evanston, Illinois last year, responding in that case to direct inquiries from local public safety officials. I have enclosed a copy of a QST "Second Century" editorial, "The Noise Frontier," that tells the story in full. Recently, at the initiative of the ARRL Lab, ARRL's general counsel filed an urgent complaint with the FCC concerning the operation of consumer drone aircraft. To carry on these efforts requires the time, attention, and expertise of a wide range of ARRL staff.   
Please help us sustain the efforts in these and other activities in defense of our spectrum with a generous contribution to the ARRL Spectrum Defense Fund. Thank you for your support in protecting this precious finite resource.
Sincere 73,
Tom Gallagher, NY2RF
ARRL Chief Executive Officer
May 2017