Temple ARC sets an example!
Since 2007 the Temple Amateur Radio Club has supported the Spectrum Defense Fund with a total of $6,000 in annual contributions. The Temple ARC's holds two successful hamfests each year and part of the proceeds are donated to ARRL to support the defense of our Amateur Radio frequencies. The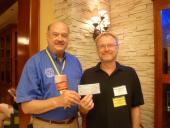 leadership of Temple ARC sets an example for other Amateur Radio clubs that are in a position to support the Spectrum Defense Fund.
Our sincere thanks to TARC Board Member Gerald Richmond N5ZXJ who joined West Gulf Division Director David Woolweaver, K5RAV to present the 2012 contribution of $1000 to the Spectrum Defense Fund.
The Temple Amateur Radio Club invites other clubs to follow their lead and contribute annually to the Spectrum Defense Fund.  For more information about how your club can participate, call ARRL Development at 860-594-0348.
Protect Your Operating Privileges
Since 1996 when Little Leos presented a threat to Amateur Radio,  ARRL has been mounting an annual campaign to inform radio amateurs about the vital role they can play in protecting Amateur Radio's frequencies.  Defending and enhancing radio amateurs' access to radio spectrum has become the most important mission of ARRL. 
Each year radio amateurs respond generously to support ARRL and become key members of the spectrum defense team. ARRL board, staff and volunteers join ARRL members to work on behalf of Amateur Radio every day, addressing issues that affect access to Amateur Radio frequencies. 
With constant vigilance and decisive action Amateur Radio has enjoyed many successes: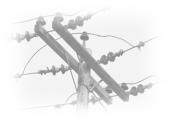 Defeating the threat that Little Leo satellites posed to the 2-meter band;
Protecting our bands and adding new ones;
Even the loss of the bottom 40% of the 220-MHz band two decades ago gave us upgraded status, from shared to exclusive, in the remaining 60% of the band;
Removing high-powered international broadcasting stations from the heart of the 40-meter band - doubling the size of the worldwide band and making it more useful than it had been in 70 years;
Earning Amateur Radio's first low-frequency(LF) allocation. But ARRL must peitition the FCC to implement the allocation and it will not be granted without argument;
Battling the Broadband Over PowerLine (BPL) interference for six years including successfully challenging the FCC on its prejudice that tainted the rulemaking process; and
Preparing for legal arguments to guarantee that the FCC will correct its errors and resolve issues solely on technical grounds.
Your contribution to the Spectrum Defense Fund ensures that ARRL will have the resources to meet future challenges when they appearm and to protect your operating privileges. 
If you would like to support the Spectrum Defense Fund with pledge of $10 or more a month on your credit card, please contact the Development Office by phone at 860-594-0348 or by e-mail to lclarke@arrl.org to arrange a billing schedule.