Radio Orienteering

USA Radio Orienteering Team Brings Home Silver and Bronze Medals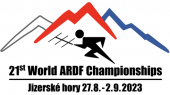 At the 21st International Amateur Radio Union World Amateur Radio Direction Finding (ARDF) Championships in Liberec, Czech Republic, held August 27 through September 2, 2023, USA competitors won a silver medal for an individual competition, as well as a bronze team medal.

ARDF, also known as radio orienteering, is a multi-skill sport that involves running and navigation using only a map, compass, and a direction-finding receiver.

Competitors use a 2-meter (144 MHz) or 80-meter (3.5 MHz) radio receiver to locate multiple transmitters hidden in a forest. The sport directly applies to important activities such as search and rescue, wildlife tracking, airborne and seaborne navigation, and communications. The competition at the championship in Liberec involved mountainous terrain, intricate navigation challenges, periods of rain, and elite racing.

The USA fielded its largest team ever, including 21 athletes, with seven competing in a world championships for the first time. The (IARU) and Czech Radio Club hosted the event in the mountainous region of North Bohemia, with 28 countries and nearly 400 racers attending.

Ruth Bromer, WB4QZG, won a silver medal in the W65 category during the 3.5 MHz "foxoring" event that combines orienteering and transmitter (fox) hunting. Nadia Scharlau, KO4ADV, and Natalia Leoni earned a bronze team medal in the W55 category 144 MHz classic competition. Several USA athletes also finished in the top 10 results in nearly all the classes, including two fourth - place finishes by Nadia Scharlau.

Scharlau was thrilled with the results: "All our newcomers performed beyond our expectations. The courses were extremely hard. We all got along and supported one another. Most importantly, almost everyone expressed their determination to improve and come back to compete again."

ARRL's ARDF Committee Chair Charles Scharlau, NZ0I, who also raced, echoed the positive take on the USA team, stating, "They successfully navigated well-designed courses on rugged terrain against a field of skilled and experienced competitors. The Czech Republic is an ideal place to hold the world championships. They have great maps, excellent venues, and they know how to put on a world-class event," he said.

The USA Radio Orienteering Championships will be held in Michigan on October 7 - 13, 2024. Team USA will select its team members for the 2025 USA Championship, and that team will travel to Lithuania in 2025 to compete in the 22nd World ARDF Championship.

A complete list of the 2023 results can be found at https://vysledky.ardf2023.cz/.

Thanks to ARRL ARDF Committee member Joseph Burkhead, KE8MKR, for the information contained in this story.
 
USA Scores at 5th World Youth ARDF Championships!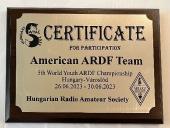 For the second consecutive championships, the USA was represented at the World Youth ARDF Championships. Adalia Schafrath-Craig represented the USA in the W16 age group. Adalia successfully completed all three event formats, finishing in the top ten in the 2m Classic competition. Held June 26-30, 2023 in Városlod, Hungary, the Hungarian Radioamateur Society hosted the event. Ten nations from all three IARU regions sent teams to the youth championships this year. Complete results are available on the World Youth ARDF Championships website.
This was the second time that the USA has been represented at a World Youth ARDF Championships, with Liza Afonkin competing in the W16 age group in 2022.
 
Same Sport, New-ish Name
An announcement from the ARRL ARDF Coordinators:
The name Radio Orienteering has been around for a very long time and has frequently been applied to the sport of ARDF, but it hasn't been recognized in any official sense. Because Radio Orienteering is more descriptive of the sport (especially to the orienteering community), and because Amateur Radio Direction Finding is often confused with other radio direction-finding activities (like mobile t-hunting), the ARRL ARDF committee has decided to officially favor the use of the term Radio Orienteering. We believe that a transition to that name will result in less confusion, and perhaps, quicker acceptance of the sport by orienteers and others who will more readily grasp the essence of the sport. So look for more references to Radio Orienteering going forward, and don't be confused: it is the same radio navigation sport we all enjoy, but with a more descriptive name.
Note: this web page now links from https://www.arrl.org/radio-orienteering and https://www.arrl.org/ro, as well as https://www.arrl.org/ardf.
Future USA Radio Orienteering Championships

It is always a good year to bring the biggest annual USA Radio Orienteering event to your town. Download and share the trifold brochure to drum up the excitement, then apply online to host the USA Radio Orienteering Championships. The ARRL ARDF Committee is standing by to help you arrange for everything you need.
About Radio Orienteering

In this sport there are no vehicles, traffic jams, or exhaust fumes. Radio Orienteering (aka, Amateur Radio Direction Finding, or ARDF) brings radios into the great outdoors with maps and compasses, providing a uniquely enjoyable way to learn new radio skills. This radio sports activity deals with the taking of radio bearings to navigate through wooded areas in search of transmitters. It involves constructing direction-finding equipment, training amateurs in the rules of the sport, and organizing events in the USA and other IARU countries.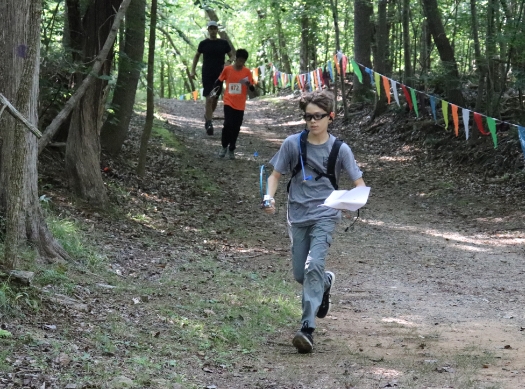 Interest and participation in Radio Orienteering activities are growing, and ARRL provides encouragement and support for Radio Orienteering activities across the United States. Events often take place at amateur radio conventions and hamfests as a magnet to amateur radio for youth and others. Championship competitions are held annually to help decide membership on the US team at the ARDF World Championships.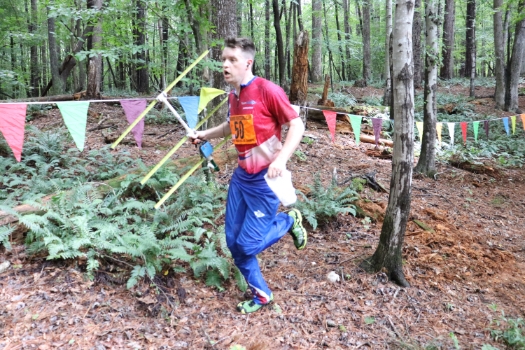 Join Team USA!

Would you like to represent the USA at international radio orienteering competitions? There are World Championships held biannually, and World Youth ARDF Championships (WYAC) have been held annually since 2017. Citizens of the USA, Green Card holders, and those who have lived in the USA for the previous year and have not competed for the title of Champion in any other country during that time, are eligible for membership on Radio Orienteering Team USA.

The only way to ensure an invitation to join the team is to prove your mettle by competing in ARRL-sanctioned radio orienteering competitions such as the USA Radio Orienteering Championships. But occasionally there are open team positions available that can be filled by qualified individuals lacking competitive results. A limited number of non-competing visitors may also travel with the team. USA Team members and visitors are responsible for all expenses associated with their participation, including paying for their own transportation, room, board and entry fees. Contact the ARRL Radio Orienteering Committee for full details.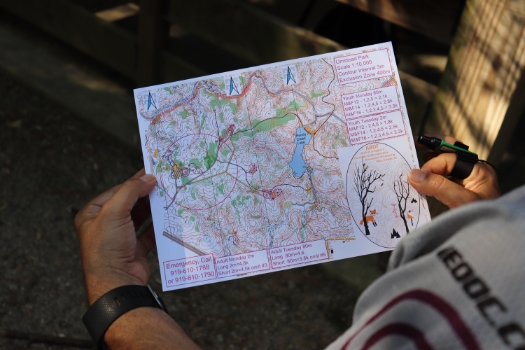 Radio Orienteering Schedule

Take a look at this list of Radio Orienteering activities to find out what is happening in your area. If you are planning to hold an ARDF activity then please email the Radio Orienteering Committee to get it added to the list!
ARRL Learning Network ARDF Webinar Video

We hope that ARRL members took advantage of the opportunity to learn the basics of The Sport of Finding Hidden Transmitters On Foot, presented by Robert Frey, WA6EZV. For those who missed it, and those who would like to see it again, please view the video online.
Contact the ARDF Committee
Questions or comments? Please contact the ARRL ARDF Committee at ardf@arrl.org.