Registration is Now Open for the
2022 ARRL National Convention
ARRL National Convention and Orlando HamCation® | February 10-13, 2022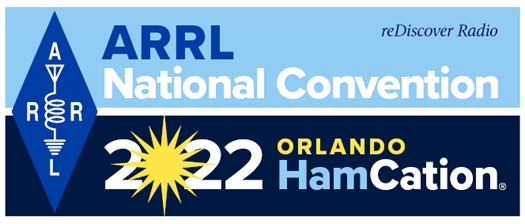 Step 1 | Register Now to attend the full-day ARRL National Convention Program on Thursday, February 10, 2022. Registration includes your choice of Training Track (full-day workshop) and the National Convention Luncheon (Southern Italian Buffet; see menu in table below).

Step 2 | Get Your Ticket for Orlando HamCation. HamCation is Friday, Saturday, and Sunday, February 11-13, 2022.
Quick Facts
What: 2022 ARRL National Convention, hosted by Orlando HamCation






When/Where: 
ARRL National Convention special all-day program — Thursday, February 10, 2022; DoubleTree by Hilton Hotel Orlando at SeaWorld, 10100 International Dr, Orlando, FL 32821
Register Now

Agenda: Thursday, February 10, 2022 DoubleTree by Hilton Orlando at SeaWorld, 10100 International Dr, Orlando, FL 32821 | Register Now

8:00 AM
Arrival and Registrant Check-In


8:30 AM to 11:45 AM

Training Tracks / Morning Session

Participants choose a Training Track during registration:

12:00 PM to 1:00 PM

National Convention Luncheon with
Keynote Speaker: ARRL CEO David Minster, NA2AA

Lunch Menu: Southern Italian Buffet
Caesar Salad
Penne Pasta Salad with Tri-Color Sun-Dried Tomato Pasto
Marinated Tomato and Onion Vinaigrette
Classic Chicken Marsala
Three Cheese with Sausage Lasagna
Pasta Primavera with a Marinara Sauce and Crisp Vegetables
Baked Garlic Cheese Bread
Chef's choice of dessert
Fresh Brewed Regular and Decaffeinated Coffee and Iced Tea

1:15 PM to 5:00 PM

Training Tracks / Afternoon Session

Participants return to their Training Track to complete the day.
 
Orlando HamCation® — Friday, Saturday, and Sunday, February 11-13, 2022; Central Florida Fairgrounds and Expo Park, 4603 West Colonial Drive, Florida 32808; | Tickets and Info
Official Websites:
www.hamcation.com
www.arrl.org/expo

Other Related Activities and Information:

The Florida Contest Group (FCG) Contest Banquet — Friday, February 11, 2022 — www.floridacontestgroup.org

Orlando travel planning — www.visitorlando.com

What is amateur radio (or "ham radio") — www.arrl.org/what-is-ham-radio
reDiscover Radio at the
ARRL National Convention and Orlando HamCation®
February 10-13, 2022
ARRL, the national association for Amateur Radio® and the Orlando Amateur Radio Club (OARC) will hold the 2022 ARRL National Convention and Orlando HamCation® February 10 – 13, 2022 in Orlando, Florida. The convention theme, "reDiscover Radio," is a rallying call for radio amateurs committed to developing knowledge and skills in radio technology and radio communication.
The convention will kick off on Thursday, February, 10 with a series of day-long ARRL Training Tracks and a National Convention luncheon at the DoubleTree by Hilton Hotel Orlando at SeaWorld. Registration is open now at www.arrl.org/expo. DX Engineering is the Official Sponsor of the 2022 ARRL National Convention Program.

HamCation will host the rest of the convention on Friday, Saturday, and Sunday, February 11-13, 2022 at the Central Florida Fairgrounds and Expo Park in Orlando — an 87-acre lakefront fairgrounds. OARC President John Knott, N4JTK noted that holding the convention in 2022 will mark the 75th anniversary of HamCation — one of the largest annually held gatherings of radio amateurs in the US. The published gate figure for 2020 was 24,200 (all 3 days). "We want our diamond anniversary show to be an exciting, 5-star event," said Knott. "We look forward to seeing you in Orlando in February."

HamCation can be followed on Facebook, Twitter, and Instagram.  
Further details will be shared via these official websites:
For information about ARRL and amateur radio, visit www.arrl.org and www.arrl.org/what-is-ham-radio.
Training Tracks | February 10, 2022
Participants will choose a Training Track during National Convention registration.
All registrants will attend the National Convention Luncheon (Southern Italian Buffet).

Training Track #1
Contest University
Track Leaders: Tim Duffy, K3LR & Teri Grizer, K8MNJ

ARRL Staff Liaison: Bart Jahnke, W9JJ, Radiosport and Regulatory Information Manager
Presenters:

Fred Kleber, K9VV NP2X: "Contesting and Emergency Preparedness from the Caribbean"
Chris Blake, NX4N and George Wagner, K5KG: "Mobile QSO Party Contesting"

Luis Romero, W4LT: "SSB Contest Audio Characteristics"

Max Fountain, KJ4EUT: "Youth Perspective on Contesting." How to draw more youth into amateur radio (and retain them!).


Claudio Veroli, I4VEQ: "World Radio Team Championship 2022/23

"
Tim Duffy, K3LR: "The Antenna Notebook"
Contest University (CTU) is coming to Orlando for the first time! Learn from some of the top contesters in the world. This is an opportunity for new contesters as well as already-competitive operators looking to hone their skills. Instruction includes general contest operations and contest station skills, and many resources for additional information and tools to further enjoy contesting.


Training Track #2
Emergency Communications Academy
Track Leader: Rick Palm, K1CE

Lead Instructor: Gordon Gibby, KX4Z
ARRL Staff Liaison: Mike Walters, W8ZY, Field Services Manager
Presenters: C. Matthew Curtain, KD8TTE; Helen Straughn, WC4FSU; Leland Gallup, AA3YB; Arc Thames, W4CPD; Christine Duez, K4KJN; Josh Johnston, KE5MHV; Earl McDow, K4ZSW; Jeff Capehart, W4UFL, and others for this important and informative day of learning.
A panel of nationally-recognized subject matter experts/trainers will conduct this emergency communications workshop. Presenters will cover current events and topics in the realm of amateur radio emergency communication techniques and hardware/software, which have evolved so dramatically in lock step with the nation's massive investment in emergency management in the post-Katrina (2005) and 9/11 (2001) mega disaster era. Radio amateurs have become an integral part of the interoperability picture.

Presentations will feature current protocols, techniques, and responsibilities for the modern volunteer radio operator serving partner public safety entities. Topics covered include an overview of amateur radio response during disasters, the Amateur Radio Emergency Service (ARES; what it is, and how to join), the ARRL Emergency Communicator Position Task Books, AUXCOMM -- Integrating Amateur Emergency Service Groups, basic voice traffic handling with hands-on voice traffic net/message transfer practice, using the ICS -213 form, Winlink Emergency Communication Tool (Amateur Radio Digital Open Protocol (ARDOP) and VARA protocols), and the Radio Mail Server (RMS) hybrid internet/HF radio gateway system, and emergency power.


Training Track #3
Hands-On Handbook
 
Track Leader: Josh Nass, KI6NAZ, creator of the popular YouTube channel Ham Radio Crash Course and the 2020 winner of the ARRL Bill Leonard Award for outstanding published media that advances Amateur Radio

.
Staff Liaison: Steve Goodgame, K5ATA, Education and Learning Manager
Presenters:
Josh Nass, KI6NAZ: Introduction (presentation TBD)

Jason Johnston, KC5HWB: "Getting Started in Parks on the Air (POTA)." Jason is creator of the popular YouTube channel Ham Radio 2.0.

Patrick Stoddard, WD9EWK: "Amateur Satellites - Getting On the Air, and Operating from (almost) Anywhere." This presentation will cover how easy it is to get started on the amateur satellites, and how easy it is to work the satellites from almost anywhere. Expect some "show and tell" and Q&A. Patrick has been working satellites since the mid-2000s, exclusively with portable equipment. He has operated from many locations around the US and some other countries (Australia, Canada, Mexico). He has a radio amateur since 1977, and also holds Canadian license VA7EWK.

Tommy Gober, N5DUX: "Coding in Amateur Radio." Discover the benefits of how amateur radio operating can be made easier with a little programming know-how and the support other active hams. Explore how easy it is to get started and why coding and ham radio go hand in hand. Tommy is an ARRL Education and Technology Program Instructor.

Kyle Krieg, AA0Z: "Intro to Remote Operating. Getting Setup with Your Current Hardware." This non-bias vendor presentation will get you up and running quickly with operating your current shack remotely. You probably already own many of the basic items you need for remoting your shack, so there is no reason why you can't get started now! This presentation will give suggestions on basic remote hardware, how to connect everything together, and operating tips and tricks. We will also touch on shack automation with Node Red. Learn how easy it is to build a remote station or remote your current shack!
Generations of radio amateurs have turned to The ARRL Handbook to be inspired to be radio-active in new ways! This series of presentations will take a deeper dive into a handful of topics, encouraging you to explore a variety of amateur radio activities. 


Training Track #4
Technology Academy
Track Leader: Kristen McIntyre, K6WX, ARRL Director -- Pacific Division

Staff Liaison: 

Ed Hare, W1RFI, Lab Manager
Amateur radio is based on technology! The more we know about how things work, the more effective we can be as radio operators. Hear from some of the technical experts in our community on a variety of topics. You don't need to be an expert. You just need to know one!

Presenters:
Kristen McIntyre, K6WX: "SWR? Who Cares!" Standing Wave Ratio has been a boogieman in ham radio for as long as I can remember. Some make it the defining parameter of their station efficiency and performance. But why do we care? Does it have a role in designing our stations? Let's explore in some depth what SWR is and what it tells us and whether it really defines our station. We'll look at how it's calculated, what it implies, Smith charts and more. And lastly, we'll see if you care.
Ed Hare, W1RFI: "Compliance with the new RF-Exposure Rules." Amateur radio has had rules regulating RF exposure for decades. The FCC recently announced changes to those rules that change the ways that all radio services determine whether they need to do an evaluation of RF exposure or are exempt from that need. This presentation explains the rules, the changes, and answers the most common questions hams have about the rules and what is expected of them.
Michelle Thompson, W5NYV: "Digital Communications Technology." Digital communications technology is a large interdisciplinary field that incorporates some of the most fundamental scientific advancements of the past 120 years. From the first spark gap transmitters, to telegraph, to the transistor, to the fast Fourier transform, to the tape drive, to Telnet, to touchscreens and trace routes, trackballs and telecommunications of all sorts, digital transmission of everyday information has revolutionized the way we communicate with each other, the way we store data, and the way we process that data to create things of greater and greater value. This talk is about how information travels over the air in ways relevant to motivated amateur radio enthusiasts. Digital communications is a difficult subject. This talk is simplified, but definitely not dumbed down. You will leave this session with a greater intuitive understanding of how digital communications works. There's a vibrant community and growing body of work in open source amateur radio digital communications for space and terrestrial work. The talk will close with a brief summary of open source digital communications work at Open Research Institute, Inc., a 501(c)(3) dedicated to open source work for amateur radio and beyond.
Joel Wilhite, KD6W: "Digital Amateur Television -- A New Paradigm." There are no more commercial analog broadcasters in the US, but ham radio has a much longer outlook with no restriction. It has all been said before: ham radio are the original hackers. Hams will try anything! Like many other technologies, Fast Scan Television is not new in ham radio and has been in use for some time. But since the industry has moved to all digital, there are more compelling reasons to adopt or launch a "digital amateur television" (DATV) effort in your area. This talk explains some of the technology used in broadcasting and where it fits into ham radio and now more than ever, why it will become a tool to attract more younger generation to the hobby as their focus is usually absorbed by the digital life around us. Social media and live streaming video have all conspired to be the prevalent tools in our society thanks to the cell phone in your pocket. This talk will focus on the basics and where the tie in with broadcast equipment comes in. Joel will review some of the technology used today and being deployed into the US market, ATSC 3.0 -- Next Gen TV. He will also cover some basic building block concepts for starting a modest ham radio effort to a full blown DATV repeater system. Joel has been radio amateur since 1982 and resides in Silicon Valley. He is most active in microwave radio building and operating, and operates a multiformat repeater site for the Palo Alto Amateur Radio Association (W6OTX) in San Jose, California. He is Secretary for the Northern Amateur Relay Council of California (NARCC). Joel has helped build some of the active DATV machines in the San Francisco bay area. He works professionally in the broadcast television industry and sits on many of the ATSC committee specialist groups. Joel is married and has one son and served in the US Navy abroad the USS Missouri.
Robert McGwier, N4HY: "ARDC Technical Projects and GEO/HEO Spacecraft Proposals." Recently the world of spaceflight for small spacecraft has changed dramatically. In order to succeed, radio amateurs need to understand the political and regulatory landscape we are facing. Our situation has changed in other ways. We now have a large source of potential funding. As such we will discuss major projects supported by ARDC to demonstrate how transformative the changed circumstances are and how the presenter feels we can and should move forward. 
Carl Luetzelschwab, K9LA, ARRL Central Division Director: "Solar Cycle 25 Update and the Tie Between Space Weather and Propagation." Carl will give a brief update on the progress of the new Solar Cycle 25 and what to expect propagation-wise in the next several years. He will discuss how space weather affects MF/HF/VHF propagation. Finally, he will review disturbances to propagation and offer possible mitigation for these disturbances. Carl sits on the ARRL Electromagnetic Compatibility Committee.