Welcome to the Ham Radio License Support Page!
While studying the Ham Radio License Manual, you may find that you need a bit more background to fully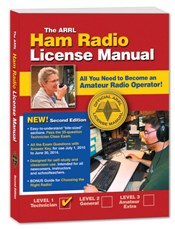 understand a topic. Maybe you'll just be curious and want to know more detail. Either way, the Ham Radio License Manual Web site is intended to act as your "study buddy" - known as an "Elmer" in ham radio. We recommend that you "bookmark" this site in your Web browser to make it as easy as possible to find timely help or launch an interesting browsing session. 
Below you'll find additional study materials for the 2nd edition of the Ham Radio License Manual with updates, corrections and other supplemental information.
Supplemental Resources
Download this study guide that provides a review of FCC exam questions corresponding to the sequence of related content in ARRL's Ham Radio License Manual, 2nd edition.
Learn More

Ham Radio License Manual Errata and Corrections

After publication we sometimes find omissions or need to make corrections to published content. You'll find updates and corrections here.

More resources to help you study and pass! 

Learn More