School Club Roundup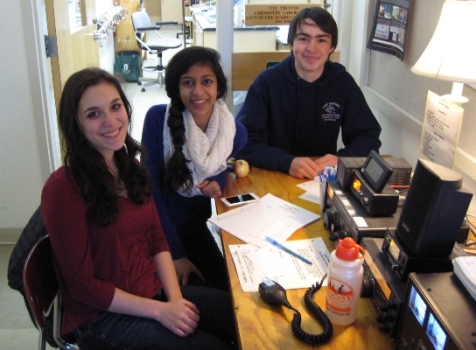 About School Club Roundup
K5LBJ in Action
Download
October 2010 School Club Roundup (SCR). LBJ High School Radio Club ranked #1 in the high school category in both 2006 and October 2010.
Contest Details
1. Exchange QSO info as below with any class of stations, especially with school stations. [The full School Club Roundup exchange is to be sent and received over the air. Only digital modes that support the full exchange of required contact information will be allowed.]


2. Operating Period:
October - third full school week of October beginning at 1300 Monday UTC and ending at 2359 UTC Friday.

February - Monday through Friday of the second full school week of February beginning at 1300 UTC and ending at 2359 UTC. 
A station may operate no more than 6 hours out of 24 and may not count more than a total of 24 hours of the 107 hour event. Clearly marked breaks of at least 10 minutes may be taken and are not counted towards total operating time.

3. Entry Classes
Single transmitter only:
(I) Individual or Single Operator (non-club);
(C) Club or multi-operator group (non-school);
(S) School club or group (grades K-12, colleges and universities). (Any station operated at a school during the operating period. This includes any group formed for the purpose of participating in the SCR.)
If multiple transmitters are used, such as for demonstration purposes, care must be taken to include only the results from one at a time.

4. Exchange: Your call sign, RS (T), class ("Individual", "Club" or "School"), U. S. A. State, Canadian Province/Territory or DXCC country/entity. (Multi-operator group stations must choose one call sign to use for the whole operating period.)

5. Scoring:
QSO Points: Stations may be contacted once per band and mode on phone, CW, and digital (packet, RTTY, PSK and other modes count as digital). No repeater contacts except satellite and "real time" packet. Count 1 point for each phone QSO and 2 points for each CW or digital QSO. ("Real time" packet includes the use of digipeaters and network nodes, but not store and forward bulletin boards or mailboxes.)

Multiplier: [Number of U.S. States plus Canadian Provinces/Territories plus DX countries/entities] plus 2× [Number of Clubs contacted] plus 5× [Number of Schools contacted].
Alaska (KL7) and Hawaii (KH6) count as U.S. states.
US possessions and territories other than Hawaii and Alaska count as DX countries/entities.  This includes Puerto Rico (KP4) and the U.S. Virgin Islands (KP2).
Final score: Multiply QSO points by multiplier. Please use our summary form to avoid errors, especially if this is your first time in the SCR (see 6 below).


Suggested frequencies: All amateur bands except 60, 30, 17 and 12 meters are permitted. Repeaters are not to be used. Only recognized simplex frequencies may be used. U. S. A. examples include 144.90-145.00; 146.49, .55, 58; and 147.42, .45, .48, .51, .54 and .57 MHz. The national calling frequency, 146.52 MHz, may not be used. Similar restrictions apply in other countries.
Suggested School Club Roundup Frequencies
| | |
| --- | --- |
| Phone (kHz) | CW (kHz) |
| 1855-1865 | 1800-1810 |
| 3850-3880 | 3530-3540 |
| 7225-7255 | 7030-7040 |
| 14,250-14,280 | 14,030-14,040 |
| 21,300-21,330 | 21,130-21,140 |
| 28,440-28,460 | 28,130-28,140 |
6. Logs:
The online Score Submission page is recommended for all entrants.  Paper logs will still be accepted.
Sample LOG and ENTRY forms new link to SCR Report form and log sheet.pdf
·         SCR-LOG or from the files section of Email Reflector. Use version 6.1 or later.
Note: SCR-LOG Windows and Macintosh versions were revised for 2015. This program will generate the report information in several formats.  
·         LogIt! – Is no longer supported. It will not generate a compatible report. 
·         GenLog - Use version 7.48 ??? or later.
·         N3FJP ver 1.2 or later.
Other popular logging programs may also support the SCR.
Paper forms are available by sending a large self-addressed, stamped envelope or an address label and postage to the reporting address below. You can subscribe to the SCR reflector by sending an e-mail to scr+subscribe@groups.io. Address all questions to scr@groups.io


7. Reporting: Stations should clearly list the callsign used, entry class, type of school, return address (where you want inquiries and certificate sent), phone number, e-mail address, number of operators/loggers (including 3rd party), and number of hours. Logs must include exchange information, bands, and signature of all operators (and authorized club official or trustee and address, phone number and e-mail). Dupe check sheets are required for paper entries over 100 QSOs. Computer generated entries in SCR Cabrillo format are appreciated. SCR-LOG or GenLog or N3FJP School Contest Log are suggested. Each of their latest versions can produce a Cabrillo report file. Please include a summary sheet and instructions including file names and formats.
Entries should be submitted via the Online Score Submission page or
SCR
c/o LIMARC
PO Box 392
Levittown, NY 11756-0392 
Entries must be submitted or postmarked not later than 15 days after the end of the operating period.
8. Certificates:
All entries will be issued an Award Certificate in PDF format.
The School Club Roundup entry categories are: Elementary, Middle/Intermediate/Junior High School, Senior High School, College/University.
Non-school clubs or multi-op groups and individuals are also eligible for a certificate. 
DX will be listed separately at the end of U. S. A. entries in each category.
Please include a mailing label and sufficient postage or IRCs. Donations may be made to LIMARC at the address above or Paypal: limarc@optonline.net
You may print your own Certificate of Participation. Download the certificate PDF file and fill in your school/club information. Or if you prefer, send an address label and four (4) units of return postage.