Visit our Section website at www.arrlsacvalley.org for the latest updates.
February 2019 News
From the Section Manager
Here are the latest news and happening from clubs andmembers around our section.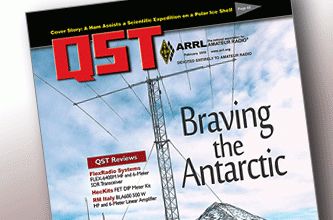 New Section Appointments
We welcome Dale Dennis, KJ6HHY, as new Yolo County ARES Emergency Coordinator, and sincerely thank his predecessor Douglas Hollowell, KK6LDS, who has resigned for health reasons.
Karl Fisher, KJ6OCL, the current Emergency Coordinator for Trinity County is the newly appointed District 1 Emergency Coordinator, replacing Jim Linden, N7JIL, who has resigned due to personal commitments.
Scott Vogelsang, WA6YNE, of the Sierra Foothills ARC is newly appointed Public Information Officer.
Congratulations to these new ARRL Section officials and thanks to all our volunteers for your service to our communities!
An ARRL Sacramento Valley Section-Wide is scheduled for Thursday, February 21.See details below.
Now is a good time for all affiliated clubs to renew the contact information that people see on the ARRL National website. Clubs must update their club record at least once per year even if nothing changes. Should two years pass without an update your club will be listed as inactive. Just go to: http://www.arrl.org/club-update and follow the instructions.  For assistance, please contact our Affiliated Club Coordinator, Max Soucia, N1KGS at n1kgs@arrl.net
Volunteers are welcome for the ARRL Section Amateur Radio Exhibit and Special Event Station N6S at the March 2 Placer County STEM Expo at William Jessup University in Rocklin. If you would like to demonstrate amateur radio and introduce inquisitive young people to our fascinating hobby please e-mail Orion Endres, AI6JB our Section Youth Coordinator at ai6jb@arrl.net
You can still send February news to kp4md@arrl.org. This website is visited most during the first week of each month, but do check back as it is often updated with late breaking news.
Our Section website, Facebook and Twitter pages are a work in progress, and your suggestions and submissions are always welcome.
73, Dr. Carol Milazzo, KP4MD
American Radio Relay League Sacramento Valley Section Manager
kp4md(at)arrl.org
You can always send compliments, suggestions and submissions for inclusion in our Section News to kp4md(at)arrl.org
February 21 Sacramento Valley Section Net
On Thursday February 21, ARRL Sacramento Valley Section will hold a Section-Wide Net, first on the WD6AXM repeater atop Sutter Buttes near Yuba City on 146.085 MHz (plus 600 kHz offset, tone 127.3 Hz) IMMEDIATELY after the 7 pm Yuba-Sutter ARES net closes. For those who are unable to access the WD6AXM repeater, our HF net will commence on the 75 meter frequency of 3880 kHz LSB +/- 3 kHz IMMEDIATELY after the VHF SV net signs off. Those who check in to the VHF net are also encouraged to join the HF net if they are able.
ARRL Sacramento Valley Section Nets are conducted only on months announced, on the third Thursday of that month following the 7 pm Pacific Time Yuba-Sutter ARES net on the WD6AXM 146.085 MHz FM repeater, followed by the HF Section Net on 3880 kHz LSB +/- 3 kHz. During spring and summer months the HF net may be conducted on 5330.5 kHz USB as propagation permits.
All Sacramento Valley Section radio amateurs are welcome to check into our Section Nets. The nets carry announcements of interest to our section and test our section-wide station communication capabilities.
Don't have an antenna or HF radio?  Click a link
and Listen to our HF net on a web receiver.
W6DRZ receiver at Half Moon Bay 3880 kHz No 60m W7RNA receiver in Sedona, AZ 3880 kHz 5330.5 kHz Northern Utah web receiver 3880 kHz 5330.5 kHz
Hourly Northern California NVIS Observations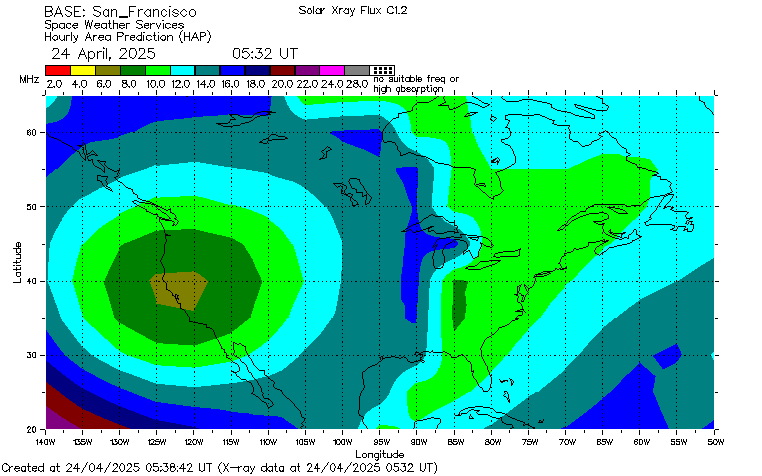 This chart shows colors that represent the recommended HF frequencies for contacting stations for a particular hour. Both stations should use the SAME frequency denoted by the color at the location of the target station. The chart is in Universal Time (UTC). More information at http://www.sws.bom.gov.au/HF_Systems/6/6
Amateur Radio Youth Outreach at Saturday 
March 2 STEM Expo in Rocklin

Posted December 31
Hundreds of curious youngsters at the Placer County STEM Expowill learn about the fascinating world of communications and electronics at the ARRL Amateur Radio Special Event Station N6S and Exhibit! Kids of all ages love hands-on activities and the opportunity to experience contacts over amateur radio, and you can participate in learning experiences that can lead to a new amateur radio license and to fulfilling careers in STEM (Science, Technology, Engineering and Math).
The American Radio Relay League Sacramento Valley Section will sponsor an amateur radio exhibit and Special Event Station N6S from 9 AM to 3:30 PM at the Saturday March 2 Placer County STEM Expo at William Jessup University in Rocklin with literature, hands-on activities, Morse Code practice stations and an operational amateur radio station.  Admission is free!
Radio amateurs and clubs who wish to join us at the STEM Expo to answer questions and share the joy of amateur radio should contact our Section Youth Coordinator, Orion Endres, AI6JB ai6jb@arrl.net now for more information!

Update from Bob Wortman, WB6VYH, Section Technical Coordinator

Posted February 3, 2019
Here comes spring ready or not.
It will be time to get out and fix all the antennas, be careful and stay away from the power lines.
The SFARC ham swap is coming soon. It is on March 16, 2019 this year at the Loomis Train Station. Minden Nevada Annual Radio Swap meet is on June 1, 2019 and on July 19-21, 2019 is Boom Town NV.
Pacificon 2019 will be 18-20 Oct 2019 at San Ramon Marriott, San Ramon. I plan to be there doing DXCC, VUCC and WAS cards. This year I will not be at the NCDXC table because of a problem last year. I will be at the ARRL table.
I will be all over Northern California, Northern Nevada, Idaho ( still thinking about moving to Idaho and looking for a place) and Oregon this summer. If you have cards to check and can't get out or find someone in your area let me know. I will need advance notice so that I can advise the ARRL Awards Desk especially for the out of state ones. My contact info. is on the ARRL web page.
Ok, spring is coming, get out and plant those antennas…………….
73, Bob Wortman, WB6VYH, wb6vyh@arrl.net
ARRL Pacific Division DXCC Awards Manager, Sacramento Valley Section Technical Coordinator, WAS Award Manager, VUCC Awards Manager
Carmichael Elks ARC Ham Swap Sunday May 26

posted February 2, 2019
The KJ6JD Carmichael Elks Second Annual Ham Swap is scheduled for Sunday, May 26 from 7 am to 2 pm at the Carmichael Elks Lodge on the corner of Cypress and Hackberry. That's 5631 Cypress 95608 for you GPS users. Single spaces are only $10 each!! Thanks to the Elks. Sellers may arrive at 7, buyers at 8 and we will have talk in on N6ICW 147.195 + PL 123 for ease of use. The Elks will have water, coffee and doughnuts for sale. More details to come, but if you have questions you can call John Dyer, KJ6JD at (916) 927-4201 or email jd3@johndyer.com.
ARRL Board of Directors Issues Statement on Amateur Radio Parity Act

from the ARRL News, January 24, 2019
At its annual meeting January 18 – 19, the ARRL Board of Directors decided that the organization needs to "review, re-examine, and reappraise ARRL's regulatory and legislative policy with regard to private land use restrictions."
In order to effectively undertake such a review, the Board adopted a resolution to withdraw its December 18 Petition for Rule Making to the FCC, which sought to amend the Part 97 Amateur Service rules to incorporate the provisions of the Amateur Radio Parity Act (ARPA), without prejudice to refiling. The resolution also is asking members of Congress who had refiled legislation to enact the Amateur Radio Parity Act (ARPA) to refrain from seeking to advance that legislation pending further input from the ARRL.
Board members noted that the ARRL has been pursuing adoption of the ARPA for the past several years, and that objective has not yet been achieved. While everyone understands that getting Congressional approval on any matter can be a lengthy process, the difficulties getting the ARPA approved have been a source of frustration to the organization and its members. A majority of the Board now believes that there is a need to reassess the organization's approach to this issue.
The Board wants to make clear to its members, and to those whose policies and conduct prevent or impair the right of US Amateur Radio operators to operate from their homes, that this pause is not, and should not be interpreted as an abandonment of its efforts to obtain relief from private land-use restrictions. The Board noted that its intent is "to renew, continue and strengthen the ARRL's effort to achieve relief from such restrictions." This action represents a chance to get the best product possible for all US Amateur Radio operators.
For the complete story go to ARRL News.
ARRL Sacramento Valley SEC Greg Kruckewitt, KG6SJT, Reports on the ARES Response to the Camp Fire
In TWiT.tv's Ham Nation episode 376 on November 14, Sacramento Valley SEC Greg Kruckewitt, KG6SJT, gave a detailed question and answer report on the role that radio amateurs played in supporting communication needs during the tragic Camp Fire in Butte County.  The interview begins at the 45:50 point in the program. Read more about the amateur radio response to the Camp Fire in the ARRL News and on our Section Facebookand Twitter feeds. 
Andy Boone KJ6IYM on Amateur Radio Newsline
Yuba Sutter ARES EC Andy Boone, KJ6IYM Interviewed on Amateur Radio Newline
In Amateur Radio Newsline Report 2142 for Friday, November 16 2018, Yuba-Sutter EC Andy Boone described the ARES response to the Red Cross call for support in the aftermath of the devastating Camp Fire.  Click to read the script.
February 9, 2019 - Sacramento County ARES Training

Posted February 2, 2019
The next Sacramento County ARES training and meeting is scheduled for Saturday February 9, 2019 from 9:00 am to 12:00 noon at the Sacramento Sheriff's Central Division, 7000 65th Street, Sacramento, CA 95823.  Mike Abernathy NM3S will give an orientation on packet radio.
Vince Cracchiolo KI6NHP is the Sacramento County EC.
For more information, visit the Sacramento County ARES web site at www.saccountyares.org
Sacramento Metro Fire FEMA CERT Class in March

Posted February 3, 2019
Sacramento Metro Fire Community Emergency Response Team (CERT) will be offering the FEMA CERT Basic Class over four sessions from March 7-16. The class is a FREE 24 hour course for people who live or work in the area served by Sac Metro Fire. The class trains participants in Disaster Preparedness and Response Skills including Fire Safety, light Search and Rescue, and disaster Medical Operations. Graduates of the course will be better prepared to care for themselves, their family, and their community in the event of a disaster, and will be eligible to volunteer as a member of Sacramento Metro Fire Community Emergency Response Team. The class is only offered twice a year, and will fill up quickly.
See Flyer for more details. To register for the class, or obtain answers to any questions you may have email MFCertBasic@gmail.com  Article by AD6DM on FEMA CERT Basic Training
Aaron Jones, K6ABJ