Visit our Section website at www.arrlsacvalley.org for the latest updates.
May 2019 News
From the Section Manager
Here are the latest news and happening from clubs and members around our section.
Michael A. Ellithorp, KF6OBI, the current Assistant Emergency Coordinator for Glenn County and President of the Glenn Amateur Radio Society is the newly appointed District 2 Emergency Coordinator, replacing Mac McCulley, W6MAC, who became a Silent Key on March 16, 2019.
We welcome Robert E. Cobb, K6JBH, as new Lassen County ARES Emergency Coordinator. Robert comes recommended with many years of service in ARES and brings valuable experience with the CALFIRE Lassen-Modoc Ranger District, the Susanville Inter Agency Dispatch Center, Susanville CALFIRE Headquarters and his association with Lassen County OES, the Lassen County Fire Warden, and Police and Sheriff Offices. We sincerely thank his predecessor Terry L. Cobb Sr., K6ME, for his over twenty years of service as Lassen County EC. Terry has resigned for personal and health reasons.
Congratulations to these new ARRL Section officials and thanks to all our volunteers for your service to our communities!
The Carmichael Elks Amateur Radio Club Ham Radio Swap Meet is on Sunday May 26 starting at 8:00 am through 2 pm at the Carmichael Elks Lodge, 5631 Cypress Ave, Carmichael, CA 95608. Talk-in is on the N6ICW repeater 147.195 MHz, +600 kHz offset, PL 123 Hz. The Elks will have water, coffee and doughnuts for sale, all proceeds go to the Elks Lodge. If you have questions you can contact John Dyer, KJ6JD by email jd3@johndyer.com.

ARRL Field Day is June 22-23!
ARRL Field Day is an annual exercise and public demonstration of our emergency communications response capabilities. Radio amateurs throughout North America participate in this exercise during the last weekend of each June. Anyone with or without an FCC license is welcome to visit and participate in Amateur Radio at a Field Day site.  Click to find a public ARRL Field Day site in your area.
Clubs: Be sure to add your public Field Day site to the ARRL Field Day Station Locator. Log onto http://www.arrl.org/field-day and click on the Field Day Site Locator link. Promote your Field Day event in your community, online, and use hashtag #ARRLFD on social media.
You can still send May news to kp4md@arrl.org. This website is visited most during the first week of each month, but do check back as it is often updated with late breaking news.
Our Section website, Facebook and Twitter pages are a work in progress, and your suggestions and submissions are always welcome.
73, Dr. Carol Milazzo, KP4MD
American Radio Relay League Sacramento Valley Section Manager
kp4md(at)arrl.org
You can always send compliments, suggestions and submissions for inclusion in our Section News to kp4md(at)arrl.org
No ARRL Section-Wide Net Scheduled for May
ARRL Sacramento Valley Section Nets are conducted only on months announced, on the third Thursday of that month following the 7 pm Pacific Time Yuba-Sutter ARES net on the WD6AXM 146.085 MHz FM repeater, followed by the HF Section Net on 3880 kHz LSB +/- 3 kHz. During spring and summer months the HF net may be conducted on 5330.5 kHz USB as propagation permits.
All Sacramento Valley Section radio amateurs are welcome to check into our Section Nets. The nets carry announcements of interest to our section and test our section-wide station communication capabilities.

Don't have an antenna or HF radio?  Click a link
and Listen to our HF net on a web receiver. W6DRZ receiver at Half Moon Bay 3880 kHz No 60m W7RNA receiver in Sedona, AZ 3880 kHz 5330.5 kHz Northern Utah web receiver 3880 kHz 5330.5 kHz
Hourly Northern California NVIS Observations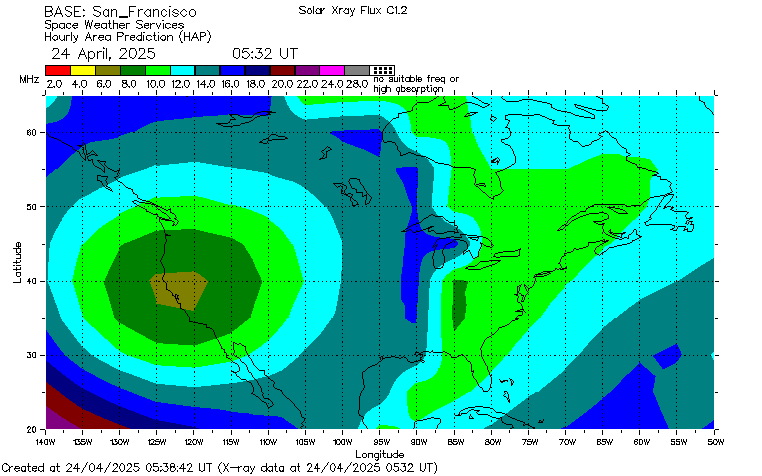 This chart shows colors that represent the recommended HF frequencies for contacting stations for a particular hour. Both stations should use the SAME frequency denoted by the color at the location of the target station. The chart is in Universal Time (UTC). More information at http://www.sws.bom.gov.au/HF_Systems/6/6

FCC Cites Carmichael Radio Amateur for Unlicensed Broadcasting

from ARRL News, March 20
An FCC Enforcement Bureau Notice of Unlicensed Operation (NoUO) issued last fall to a California Technician-class licensee for alleged unlicensed FM broadcasting on 95.7 MHz now has been upgraded to a Notice of Violation (NoV) that cites violations of the Part 97 Amateur Service rules. The March 15 NoV sent to Daryl Thomas, KE6MWS, of Carmichael, also specifically acknowledges Thomas as an Amateur Radio licensee — something not done in last November's NoUO. The FCC Enforcement Bureau warned that it could progress to a Notice of Apparent Liability for Forfeiture (NAL), "if warranted."
An FCC Enforcement Bureau agent who monitored transmissions on 95.7 MHz from "Amateur Radio station KE6WMS" in the FM broadcast band on January 31, 2019, observed violations of §97.103 — not operating in accordance with FCC rules; §97.113(b) — prohibited transmissions, i.e., broadcasting, and §97.301 — operation outside frequency bands authorized for Amateur Radio. The FCC ordered Thomas to respond in writing within 20 days, explaining each violation and actions taken to correct them and prevent their recurrence.
Read the full story at http://www.arrl.org/news/view/fcc-cites-amateur-service-rule-violations-in-unlicensed-broadcasting-case
Update from Bob Wortman, WB6VYH, Section Technical Coordinator

Posted February 3, 2019
Here comes spring ready or not.
It will be time to get out and fix all the antennas, be careful and stay away from the power lines.
The SFARC ham swap is coming soon. It is on March 16, 2019 this year at the Loomis Train Station. Minden Nevada Annual Radio Swap meet is on June 1, 2019 and on July 19-21, 2019 is Boom Town NV.
Pacificon 2019 will be 18-20 Oct 2019 at San Ramon Marriott, San Ramon. I plan to be there doing DXCC, VUCC and WAS cards. This year I will not be at the NCDXC table because of a problem last year. I will be at the ARRL table.
I will be all over Northern California, Northern Nevada, Idaho ( still thinking about moving to Idaho and looking for a place) and Oregon this summer. If you have cards to check and can't get out or find someone in your area let me know. I will need advance notice so that I can advise the ARRL Awards Desk especially for the out of state ones. My contact info. is on the ARRL web page.
Ok, spring is coming, get out and plant those antennas…………….
73, Bob Wortman, WB6VYH, wb6vyh@arrl.net
ARRL Pacific Division DXCC Awards Manager, Sacramento Valley Section Technical Coordinator, WAS Award Manager, VUCC Awards Manager
Carmichael Elks ARC Ham Swap Sunday May 26
The KJ6JD Carmichael Elks Second Annual Ham Swap is scheduled for Sunday, May 26 from 7 am to 2 pm at the Carmichael Elks Lodge on the corner of Cypress and Hackberry. That's 5631 Cypress Ave, Carmichael, CA 95608 for you GPS users. Single spaces are only $10 each!! Thanks to the Elks. Sellers may arrive at 7, buyers at 8 and we will have talk in on N6ICW 147.195 + PL 123 for ease of use. The Elks will have water, coffee and doughnuts for sale. More details to come, but if you have questions you can call John Dyer, KJ6JD at (916) 927-4201 or email jd3@johndyer.com.


WWV Centennial Special Event Will Use WWØWWV

from the ARRL News, March 1, 2019
With its funding secure for another year, WWV, the world's oldest continuously operating radio station, will have extra reason to celebrate its centennial this fall. The National Institute of Standards and Technology (NIST) and the Northern Colorado Amateur Radio Club (NCARC) have teamed up to organize 100th anniversary events. A memorandum of understanding is pending. The WWV Committeehas announced that the call sign WWØWWV was granted on February 23 to the WWV Amateur Radio Club for use during the Amateur Radio special event, planned to run September 28 – October 2, with operators on the air — no pun intended — around the clock. NCARC predicts the effort will require "hundreds" of volunteer operators.
For the complete story go to ARRL News.
 Emergency Communications 
ARRL Board of Directors Adopts New ARES Plan

from the ARRL News, February 19, 2019
The new ARES Plan adopted by the ARRL Board of Directors at its Annual Meeting in January represents an effort to provide ARES with a clearly defined mission, goals, and objectives; specific training requirements, and a system for consistent reporting and record-keeping. The Board's Public Service Enhancement Working Group (PSEWG) spent more than 3 years crafting the ARES Plan which, ARRL officials believe, provides a much-needed update of the program's role in public service and emergency preparedness in the 21st century. Concerns focused on bringing ARES into alignment with the National Incident Management System (NIMS) and Incident Command System (ICS), and creating more consistent and standardized ARES training requirements. Given dramatic changes and upgrades in national, regional, and local emergency and disaster response organizations, ARRL faced a major challenge, said ARRL Great Lakes Division Director Dale Williams, WA8EFK, who chaired the PSEWG.
"If we didn't address these issues, such as training standards and organizational management, ARES faced the very real possibility that it would no longer be viewed as a valid and valuable partner in emergency and disaster relief situations," Williams said.
For the complete story go to ARRL News.
May 11, 2019 - Sacramento County ARES Training

Posted May 3, 2019
The next Sacramento County ARES training and meeting is scheduled for Saturday May 11, 2019 from 9:00 am to 12:00 noon at the Sacramento Sheriff's Central Division, 7000 65th Street, Sacramento, CA 95823.
Vince Cracchiolo KI6NHP is the Sacramento County EC.
For more information, visit the Sacramento County ARES web site at www.saccountyares.org