CONTACT - April 2015
Vol 13 # 4

In this issue:
ARRL PIO Washoe County, NV TV Interview
Bill Leonard Award Presentation at KCUR-FM
World Amateur Radio Day is April 18!
Oregon, South Florida Sections Join Twitter

McGan Award Deadline is May 22!
SKYWARN volunteers played a big part in the response of the tornadoes that hit the Tulsa area on March 27. In addition, ARRL Oklahoma Section Manager Lloyd Colston, KC5FM, got the news of his section's mobilization efforts to us at ARRL quickly, which allowed us to post a story on their activities. Kudos to all the hams in the Tulsa area who helped, and thanks to Lloyd for getting us information about his group's activities quickly. These reports serve as the backbone of reports ARRL gives to elected officials at all levels of government. The more data we have, the better information we can give to elected officials and better educate them on Amateur Radio.
ARRL PIO Washoe County, NV TV Interview
Congratulations to ARRL PIO Randall Lorenz, AF7HD, for his interview highlighting emergency preparedness on KTVN Channel 2 in Reno, Nevada! Watch the video here:
2014 Bill Leonard Award Presented to KCUR-FM Hosts
ARRL Missouri Section Manager Dale Bagley, KØKY (photo, far left), and ARRL Midwest Division Assistant Director Brian Short, KCØBS (photo, far right), were able to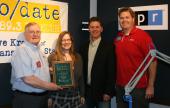 present the 2014 ARRL Bill Leonard Award for audio media to winners Steve Kraske and Beth Lipoff of KCUR-FM in Kansas City. The presentation was made at the KCUR studios on Friday, March 20. Kraske and Lipoff interviewed Brian Short on their Up To Date program with the theme "Exploring Ham Radio in a Digital World." Short was the 2014 winner of the ARRL Phil McGan Award for public relations for his appearance on the same program. Congrats, Steve and Beth!


World Amateur Radio Day is April 18!
Saturday, April 18, hams from all around the world will be on for World Amateur Radio Day. A web page has been set up on the IARU website, and promotional posters are available for any group that will be setting up for the day. While this event gets the most play in Europe, there is some participation here in the US. If your group wants to get on the air for World Amateur Radio Day, drop me a line and I'll add you to the list of known stations on the WARD page. Be sure to follow the hash tag #WARD2015 for the latest information from participating stations worldwide.
We're always happy to see hams become a PIO and help promote Amateur Radio to the general public. Please welcome these new PIOs into the group!
North Carolina: Philip J. Jenkins, N4HF
San Diego: John Wright, K6CPO
San Joaquin Valley: Caleb G. Squires, KK1G
Oregon, South Florida Sections Join Twitter
Both the Oregon and South Florida sections have started a Twitter feed to help promote their section's activities! You can follow them at @ARRLOregon and @ARRL_SFL. Many ARRL Sections have Twitter feeds; does yours? Let us know!
ARRL McGan Award Nomination Deadline is May 22!
Time's running out for making your nominations for the 2015 ARRL Phil McGan Award. This award honors the PR efforts of a ham to the non-ham community. Do you know somebody who made a great presentation or outreach effort on behalf of Amateur Radio? Now is the time to nominate them for helping spread the word. Nominations must be received by May 22. Fill out the nomination form soon.
I was on a flight back from Nashville this past Sunday. I ended up sitting next to a very tall gentleman, and we commiserated about the unpleasantness of flying when you're over six and a half feet tall. The conversation eventually came around to what we did for a living. He was a grade school principal, en route to a education conference on teaching STEM (Science, Technology, Engineering and Math) topics in Chicago. He asked me what I did, and I launched into my standard elevator speech, where I have 30 seconds to explain ham radio, what we do, why we do it, etc. Thirty Seconds.
He was enthralled.
Our flight had wifi, so I logged on and showed him the ARRL "What Is Ham Radio" page, and let him watch a video or two of ham radio in action. I gave him the 5-cent explanation of radio propagation and showed him a real-time propagation page of QSOs taking place as we were talking. At the end of the flight, we exchanged business cards and he asked me to send him more information, particularly on the Teachers Institutes ARRL offers. We've been exchanging email all week.
You simply never know when you're going to get an opportunity to promote Amateur Radio. Are you prepared? What's in your PR "Go-Kit?"
Thanks for all you do.
Sean Kutzko, KX9X
ARRL Media & Public Relations Manager