Articles and Stories
Here are some published articles and stories that describe the classroom activities of students who are on the air with Amateur Radio, studying weather, science or electronics, building and programming robots, launching balloons and transmitting telemetry data and learning about wireless technology through Amateur Radio and the resources provided by ARRL's Education & Technology Program.
Ham Radio Becomes an Integral Part of High School Curriculum in Chesapeake Virginia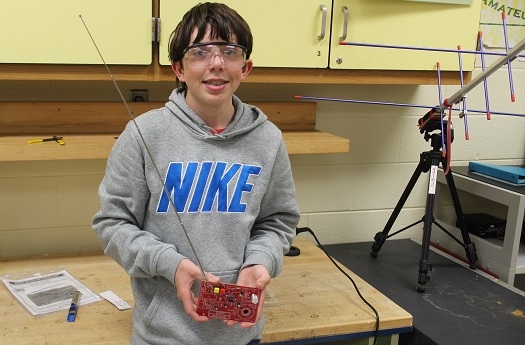 Amateur Radio has become an official part of this school system's STEM (Science,Technology, Engineering, and Math) coursework.  Career and Technical Education (CTE) teacher, John Bowser, W4RMY, developed a curriculum for his high school's electronics classes that incorporates Amateur Radio concepts and hands-on experience.  In the photo, an Electroncis I student shows off the FM radio he built.   Read more.