Visit our Section website at www.arrlsacvalley.org for the latest updates.
April 2017 News
From the Section Manager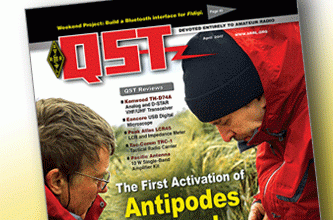 Here are the latest news from our section clubs and members.
Section Net Report. Thanks to Steve Sweetman, K6TAZ, who served as Net Control and to all who participated in the March 16 Section Nets. Twenty one stations participated in the 2 meter net over the WD6AXM repeater atop Sutter Buttes. Despite excellent propagation during a test on 5330.5 kHz just 30 minutes prior to net time, only three stations within ground wave distance of net control could check in on our HF net on either 5330.5 kHz or the alternate 3880 kHz frequency.
Jeff Allbright, N5JEF, shares this observation on the sudden HF propagation drop out at sunset: "I thought you might appreciate a tool I use to keep track of NVIS propagation in near real-time. You can load this link into your browser and then refresh it repeatedly to monitor changing conditions. Here's how it looked this evening while we were struggling to communicate on 5330.5 and then 3880 kHz. 60 meters was just fine until sundown, but in less than a half hour without direct solar radiation, the ionization we need is gone [on both bands]. This is what we must deal with during the coming years of the solar minimum. Another way to mitigate this would be to switch to a robust HF digital mode such as FSQCALL."
Near Vertical Incidence Skywave (NVIS) HF voice communication will certainly be more challenging during the decreasing solar activity that we expect for the three remaining years of Solar Cycle 24. On the date of our next scheduled Section Net, Thursday April 20, propagation may be more favorable as sunset will occur at 7:50 pm PDT. Our HF net will start again on 5330.5 kHz USB and move to 3880 kHz LSB +/- 3 kHz if necessary.  Don't have an HF radio?  Listen to the net on the W7RNA WebSDR receiver.
Section Wide 2 Meter and 60 Meter Nets, Thursday, April 20 at 7:30 pm PDT
A Section-wide net is scheduled for Thursday, April 20. The net will commence after the Yuba-Sutter ARES net closes about 7:30 pm Pacific Time on the WD6AXM 146.085 MHz FM repeater, immediately followed by an HF net on 5330.5 kHz USB (alternate 3880 kHz LSB if no propagation). We will issue an Official Bulletin reminder prior to the net.
Congratulations to the Sierra Foothills ARC on a successful Hamfest in Loomis on March 18! Roger and I were glad to meet so many of you at the ARRL booth.  If you missed it, I've posted a photo album and SFARC posted this video.
Save the June 24-25 weekend to attend ARRL Field Day, amateur radio's premier public outreach event.  Be sure to add your public Field Day site to the ARRL Field Day Station Locator. Log on tohttp://www.arrl.org/field-day and click on the Field Day Locator link. Promote your Field Day event in your community and use hashtag #ARRLFD on social media.
We are currently recruiting for a new Affiliated Club Coordinator for our section. Please contact me if you are interested in assisting in this capacity.
We send our deepest sympathy to Jo Anne Murdock, N6YLO, and her family on the passing of our past Section Manager Ron Murdock, W6KJ.  Ron's passion for serving our amateur radio community was truly inspiring and he will be sorely missed.
Our website, Facebook and Twitter pages are a work in progress, and your suggestions and submissions are always welcome.
This website is visited most during the first week of each month, but do check back as it is updated weekly with late breaking news.
Roger and I look forward to attending the Visalia DX Convention this month and North Hills Radio Club Hamfest in Carmichael on May 21.
73, Dr. Carol Milazzo, KP4MD
American Radio Relay League Sacramento Valley Section Manager
kp4md(at)arrl.org
You can always send compliments, suggestions and submissions for inclusion in our Section News to kp4md(at)arrl.org
Past ARRL SV Section Manager Ron Murdock, W6KJ, Silent Key
posted April 2, 2017
Our past ARRL Sacramento Valley Section Manager, Ronald Murdock, W6KJ, passed away peacefully at home by his beloved wife Jo Anne, N6YLO, on the morning of April 1.
Ron was a very active and long-standing member of the American Radio Relay League and the Yuba-Sutter Amateur Radio Club. He served as ARRL Sacramento Valley Section Manager from July 2007 through September 2015. Ron was a US Air Force veteran, who flew 300 combat missions as a B52 radar navigator. He also worked as a substitute teacher for 15 years. Ron listed his amateur radio interests as: Amateur Satellites, Building Antennas, Building Equipment/Kits/Accessories, Club Meetings, Continuing Education Training/Courses, Conventions Hamfests Flea Markets Or Swap Meets, DXing, Emergency Communications/ARES/RACES, Field Day, Giving License Exams, hamfests, Making New Friends, Mobile Or Portable Operating, Nets, Personal Safety, Public Service Or Community Safety, Ragchewing/Casual Operating, Recruiting New Hams, Talking With Friends, Teaching New Hams, and Traffic Handling."
Ron wrote in his ARRL profile: "Ham Radio got my interest in high school. I built two shortwave receivers, Allied and Heathkit, and started learning the code. College intervened, then marriage and the Air Force. My first ticket was WN8WRT. Never have stopped loving ham radio."
Other recent past ARRL SV Section Managers: Casey McPartland, W7IB, Dec 2006-Jun 2007; Jettie Hill, W6RFF, Oct 2002-Nov 2006; Jerry Boyd, K6BZ, Apr 2000-Sep 2002; and Jettie Hill, W6RFF, 1989-2000.