Visit our Section website at www.arrlsacvalley.org for the latest updates.

January 2019 News from the Section Manager
Here are the latest news and happening from clubs and members around our section.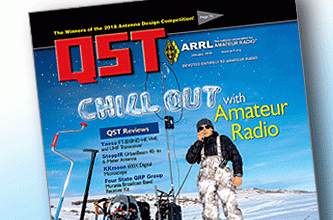 Happy New Year to all! This month's news features reports, photos and videos from radio amateurs and clubs around our Section.
Volunteers are needed for an ARRL Section Amateur Radio Exhibit and Special Event Station N6S at the March 2 Placer County STEM Expo at William Jessup University in Rocklin. If you would like to participate in this outreach activity and introduce youth to the fascinating world of amateur radio please e-mail Orion Endres, AI6JB our Section Youth Coordinator at ai6jb@arrl.net
Thanks to all who have submitted the 2019 calendar year License Class and VE Session updates. These and more useful information for anyone interested in amateur radio are now included in our home page sidebar.
There is no Section Wide net scheduled for January. Thanks to all who participated in our December 20 Section-wide nets.
You can still send January news to kp4md@arrl.org. This website is visited most during the first week of each month, but do check back as it is often updated with late breaking news.
Our Section website, Facebook and Twitter pages are a work in progress, and your suggestions and submissions are always welcome.
73, Dr. Carol Milazzo, KP4MD
American Radio Relay League Sacramento Valley Section Manager
kp4md(at)arrl.org
You can always send compliments, suggestions and submissions for inclusion in our Section News to kp4md(at)arrl.org
Sacramento SHARP 2019 Technician and General Class Ham Radio Licensing Courses
Posted December 2, 2018
The Sacramento Sheriff Amateur Radio Project is offering no-cost license courses for the Technician and the General Class Amateur Radio Licenses at the LDS Church, 8580 Florin Rd, Sacramento, CA 95828. The course is offered as class sessions from 6-9 pm on Tuesdays and Thursdays over 3 or 4 weeks, each of which covers one portion of the material with pre and post practice exams. A license exam session for a $15 fee is offered on the Friday following the final class of each course.
DATES FOR TECHNICIAN CLASSES: March 5th, 7th, 12th, 14th, 19th, 21st with the VE Session on the 22nd of March, 2019.  Download Flyer
DATES FOR GENERAL CLASSES: April 2nd, 4th, 9th, 11th, 16th, 18th, 23rd, with the VE session on the 26th of April, 2019.  Download Flyer
A current ARRL License Manual for each corresponding license class is required. For details go tohttp://www.sacsharp.org/ham-classes
Technician Class License Course in Yuba City
Posted December 2, 2018
Coming in January and February 2019 is the next Yuba-Sutter ARC Technician license class. Classes will be held on Monday and Wednesday evenings from 6:30 to 8:30 P.M. at the American Red Cross Center in Yuba City beginning Jan. 7 through Feb 27, 2019. The Red Cross building is located at 125 E. Onstott Road, Yuba City. We will be meeting in Classroom 2. If you plan to attend this class please contact Curtis KF6VFP. If you do plan on taking the class, you will need to obtain a Technician class book. The books and other needed material are listed below.
"The ARRL Ham Radio License Manual", fourth edition. Manuals can be obtained from the instructor (20% discount), the ARRL, Amazon (Print or Kindle), or buy a used copy from a friend, etc.
Testing
The Yuba Sutter Amateur Radio Club also offers tests for all amateur radio classes. Testing will be held at 715 King Ave, Yuba City, CA 95991 the first Saturday of every odd month at 09:00 AM.