ARISS Opens Windows of Opportunity Twice a Year
Two times a year (spring and fall), the ARISS-US Team opens windows of opportunity for accepting education proposals from US schools and education groups.  The best proposals are chosen for ARISS scheduled ham radio contacts.  For details, please go to here.

Scroll down this page to find a Proposal Guide, the Proposal Form and other information you'll need to apply.  Information sessions are offered.  Scroll down for dates and times.
Hosting an ARISS Contact
A scheduled ARISS contact is a voice-only communication via Amateur Radio between the International Space Station (ISS) crew and classrooms and communities.  ARISS contacts allow education audiences to learn firsthand from astronauts what it is like to work and live in space. These scheduled contact
opportunities are offered to formal and informal education institutions and organizations, individually or working together.  The radio contacts are approximately 10 minutes in length due to the radio communication window permitted by the logistics of orbital passes of the ISS.  During the contact, students interact directly with astronauts and cosmonauts during this communication window using a question and answer format.
To maximize these radio contacts, the ARISS program looks for organizations that will draw large numbers of participants and integrate the radio contact into a well-developed education plan.  Because of the nature of human spaceflight and the complexity of scheduling activities aboard the ISS, organizations must demonstrate flexibility to accommodate changes in contact dates and times.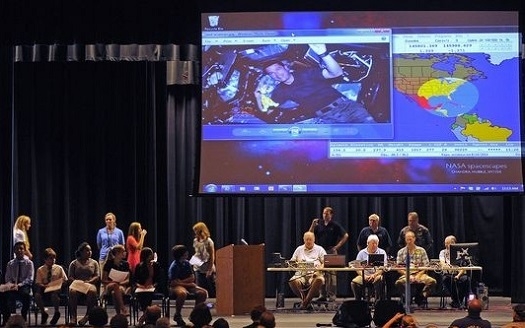 Students at Winfree Bryant Middle School in Lebanon, TN take their turn stepping up to the microphone to interview astronaut Gregory Wiseman, KF5LKT on August 26, 2014.
ARISS Proposal Requirements
U.S. education organizations interested in hosting an ARISS scheduled contact will find information about submitting a proposal below. (International schools should submit applications following instructions provided on the international ARISS Program website).
Educational proposals should include plans for students to:
study topics related to space technology, space exploration, or space research, and,

learn about communication, wireless technology, and radio science
The more advance preparation educators make with educational plans, the more learning and value the ARISS event will have for students.  Imagine your students interviewing an astronaut in space, maybe even using an antenna your students have assembled!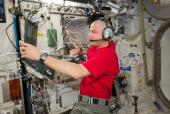 ARRL's Education & Technology Program and NASA offer valuable resources to help you and your students learn about wireless technology and satellite communications and space exploration.  Go to ARRL's web page: Preparation for an ARISS Contact for links to those resources.  
An ARISS Technical Mentor is assigned to assist educational organizations with technical preparations and logistical coordination of the contact. With the assistance of your ARISS Technical Mentor, ARRL and AMSAT can help you find a local Amateur Radio group to provide equipment and expertise. In some cases, local ham radio club volunteers may also be able to assist with lessons on communication, wireless technology, or radio science.

Media Resources
Use this template to develop a news release to circulate to your local newspaper and television stations.

Provide this backgrounder to representatives from the media who show up for the ARISS event.

Artwork for the ARISS logo is provided below in 3 formats for you to use in signage, for T-shirts and other materials you develop to promote the event.
Requesting QSL Cards
Here's the information the ARISS Team will need, in addition to your SASE, to provide QSL cards for students and mentors engaged in a scheduled contact in the US:

Names of all students and participants for which you are requesting a card

What call sign was used to contact the ISS?  Was one call sign used or were there also personal call signs used?

What was the call sign used by the ISS for the contact?

 

Then add the remaining information below:

Mode (voice, or SWL for bystanders)

D

ay, month, year, time in UTC

Frequency in MHz

Note: You can request QSL cards for students who have made packet and SSTV contacts, too.

Send the list to:

Bruce and Christy Hunter, W6WW & KB6LTY

13436 Lakota Road

Apply Valley, CA 92308-5802


Please include a return envelope with adequate pre-paid postage.