An exciting opportunity to engage STEM topics
ARISS provides a forum through which students can be engaged in Science, Technology, Engineering, and Mathematics (STEM) related activities and curriculum topics, including Amateur Radio and the science of radio. Teachers prepare students through lesson plans in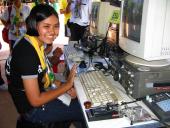 their science and math curricula focusing on such topics as Ohm's Law, satellite tracking and Kepler's Laws, radio signals and wave propagation. Lessons culminate in an Amateur Radio contact with the ISS. Other preparations in communications and radio operation prepare students for their conversation with astronauts. Youth at the elementary, middle and secondary levels, throughout the world, have benefited from this unique experience.   Nearly all national and state learning standards for science, technology and math can be linked to learning activities in preparation for an ARISS contact. Exploration of Amateur Radio engages hands-on activities—on on-the air—as well as hands-on building projects, such as building crystal radio sets. The level of engagement with these kinds of activities combined with the memorable event of conversation with an astronaut aboard the ISS can have lasting impact and influence the choices students make about academics and career goals. Amateur Radio offers the opportunity to reinforce other curriculum areas in the language arts, foreign languages and geography.
Click here for a description of the linkages between amateur radio and core learning areas. 
Read more stories about ARISS contacts to see the variety of possibilities for curriculum connections.
For example:

Students from King George Elementary School in Moose Jaw, Saskatchewan took part in an ARISS QSO with Astronaut Sandra Magnus,

KE5FYE,

on December 15, 2008.

P

rincipal Ward Milligan comm

ented, "It was an awesome experience that will become more important in the lives of these students. Having a personal contact with someone in space increased the students' interest in space by three-fold. Sandra Magnus was very enthusiastic and answered the students' questions in a manner they could relate to, and she was very encouraging of the students. It was an inspirational and moving experience."
Students from Romeo Elementary School in Dunnellon, Florida, prepared for their ARISS contact by engaging in science and communications experiments. Students learned about radio waves, so

und waves and communications and attended presentations and demonstrations given by members of the Silver Spring Radio Club. They used amateur radio to speak with others locally, nationally and internationall

y. The teacher who coordinated the contact received two grants which were used to purchase radio equipment, an antenna, a satellite tracking program and ARISS resource materials.
ARISS partners with college and university students in STEM-related fields, giving them the chance to apply what they have learned in their classes to hands-on activities, furthering their interest and abilities in science and technology, and promoting STEM-related career opportunities. As an example, electrical engineering students at the College of New Jersey assisted the ARISS Team with developing and testing hardware for the SuitSat-2 software defined radio.