Adventure is Waiting!

ARRL's new flyer presents "22 Things You Can Do With Amateur Radio." View it and order it from the ARRL Store.
Teaching Ham Radio at Summer Camp
Since 1999, Joel Colman, NO5FD, has been introducing Amateur Radio to youngsters at the Henry S. Jacobs Camp in its residential summer program in Utica, MS. Colman meets with campers who choose the radio elective for one hour, three to four times a week. While he says it's not enough tim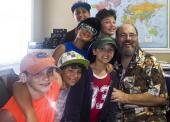 e to teach a licensing course, it does allow Colman to teach them about Morse code, the phonetic alphabet, making QSOs, and even a little contesting.  
Read more about his approach to engage kids and show them the fun Amateur Radio can offer.
Story Hour via Ham Radio
In Culver City, California, the Culver City Friends of the Library recently hosted ham radio operator, Erika Hoekstra, KG6LKG, for their monthly "story time." Hoekstra read a book over the air on the CCARES 440 repeater and let the children hear it on a HT they held. For all the children and for many of the parents this was the first time they had ever had a ham radio in their hands. Following the story, the children and their families all made the classic communication device-- 2 cans and a string!