Adventure is Waiting!

ARRL's flyer presents "Why Give Amateur Radio a Try" Download it here:

ARRL Teachers Institute

The ARRL Teachers Institute is a great way to get youth engaged. Teachers are trained for a week to incorporate wireless technology into their classrooms... and it is expenses paid!
The How and Why of Amateur Radio Youth Outreach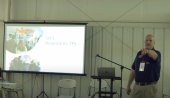 Steve Goodgame, K5ATA hosted an ARRL Forum at Hamvention on the topic of "The How and Why of Youth Outreach." There was an interactive discussion with the forum attendees as Steve shared his passion and vision for the ARRL Education and Learning Department and Youth Outreach. Josh Nass, KI6NAZ, of the popular YouTube channel, Ham Radio Crash Course recorded the forum and has it available HERE.
A Hundred Kids A Day: Ham Radio at Arizona Science Center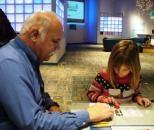 The center of ham radio at Arizona Science Center is W7ASC. It is located within an exhibit gallery called "My Digital World." A mix of live equipment and visual media draws in visitors. There they can either interact with the operators, or just peruse the displays. The static displays and video screen allow visitors to learn about Amateur Radio in the absence of a live operator.
Read more about how local hams share the traditional and the contemporary of ham radio with young visitors.
Teaching Ham Radio at Summer Camp
Since 1999, Joel Colman, NO5FD, has been introducing Amateur Radio to youngsters at the Henry S. Jacobs Camp in its residential summer program in Utica, MS. Colman meets with campers who choose the radio elective for one hour, three to four times a week. While he says it's not enough tim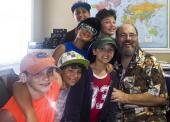 e to teach a licensing course, it does allow Colman to teach them about Morse code, the phonetic alphabet, making QSOs, and even a little contesting.  
Read more about his approach to engage kids and show them the fun Amateur Radio can offer.