Visit our Section website at www.arrlsacvalley.org for the latest updates.
May 2017 News
From the Section Manager

Here are the latest news from our section clubs and members.
Section Manager Nomination
Thanks to the members who have endorsed and submitted the nomination for my re-election as Section Manager. I appreciate your confidence and support and will gladly continue serving as your Section Manager if you so desire.
From arrl.org: "Whenever more than one member is nominated in a single section, ballots will be mailed from Headquarters on or before July 1 to full members of record as of June 10 which is the closing date for nominations. Returns will be counted August 22. Section Managers elected as a result of the above procedure will take office October 1."
"If only one valid petition is received from a section, that nominee shall be declared elected without opposition for a two-year term beginning October 1."
April 20 Section Net Report
Thanks to Steve Sweetman, K6TAZ, who served as Net Control and to all who participated in the April 20 Section Nets. Twenty one stations participated in the 2 meter net over the WD6AXM repeater atop Sutter Buttes, and thirteen stations on the HF net on 3880 kHz LSB. The solar flux did not support a net on 5330.5 kHz.  This confirms the trend that we expect to observe during the next three years of decreasing solar activity of Solar Cycle 24.
Don't have an HF radio?  Tune in on the W6DRZ web receiver at Half Moon Bay or the W7RNA web receiver in Sedona, AZ.
Hourly Northern California NVIS Observations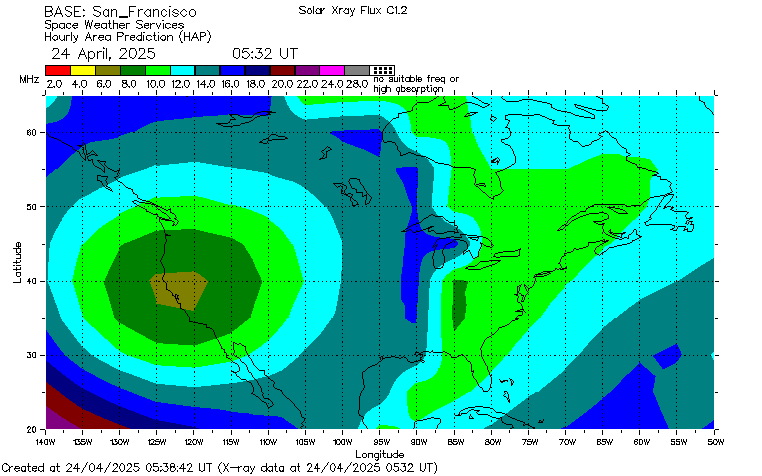 Don't miss the Sunday May 21 North Hills Radio Club Hamfest at the Carmichael Elks Lodge.  The Hamfest opens at 7:00 am through 12 noon.  Roger and I look forward to see you at the ARRL booth.
Save the June 24-25 weekend to attend ARRL Field Day, amateur radio's premier public outreach event.  Be sure to add your public Field Day site to the ARRL Field Day Station Locator. Log on to http://www.arrl.org/field-day and click on the Field Day Locator link. Promote your Field Day event in your community and use hashtag #ARRLFD on social media.
Also mark your calendar for ARRL Exhibit and Special Event Station N6M at the Rocklin Maker Faire on Saturday, October 14 at Sierra College, Rocklin, CA.
We are currently recruiting for a new Affiliated Club Coordinator for our section. Please contact me if you are interested in assisting in this capacity.
Our website, Facebook and Twitter pages are a work in progress, and your suggestions and submissions are always welcome.
This website is visited most during the first week of each month, but do check back as it is updated weekly with late breaking news.
Roger and I look forward to see you at the North Hills Radio Club Hamfest at the Carmichael Elks Lodge on May 21.
73, Dr. Carol Milazzo, KP4MD
American Radio Relay League Sacramento Valley Section Manager
kp4md(at)arrl.org
You can always send compliments, suggestions and submissions for inclusion in our Section News to kp4md(at)arrl.org
Recent Past ARRL SV Section Managers: Ron Murdock, W6KJ, Jul 2007-Sep 2015 Casey McPartland, W7IB, Dec 2006-Jun 2007; Jettie Hill, W6RFF, Oct 2002-Nov 2006; Jerry Boyd, K6BZ, Apr 2000-Sep 2002; and Jettie Hill, W6RFF, 1989-2000.