Worked All Continents
Sponsored by the International Amateur Radio Union (IARU), the Worked All Continents award is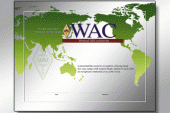 issued for working and confirming all six continents (North America, South America, Oceania, Asia, Europe and Africa) on a variety of different bands and modes. The cost of the WAC is $13.00 per award certificate. Endorsements are also available for $7.50. (for multiple endorsements presented on one application there is a fee of just $7.50. However, multiple endorsements presented on multiple applications are $7.50 each).

A Five-Band Worked All Continents award is available. You must work and confirm all six continents on each of the 5 primary bands of 80, 40, 20, 15 and 10 Meters. Upon completion of these b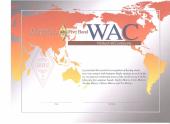 ands, endorsements for the Five-band WAC are available for the remaining amateur bands (Except 60 meters or 5 MHz). Also, the  Five-Band WAC is strictly a band-only award and this award cannot be endorsed on any mode.

WAC program applications, worldwide, can be checked by an official DXCC card checker. Also, in any country any official awards manager for an IARU member society may check applications for this program.

Note sure of which continent is associated with the DXCC entity in question? Visit this site for the complete list of DXCC entities which includes the continent(s) associated with it.

Award fees do not include return postage for paper cards submitted. An SASE or sufficient postage for the return of paper cards is required in addition to the award fee(s). For postage for WAC and Five-Band WAC certificates, an SASE with 2 current value stamps, or, $2.00 is sufficient for mailing within the USA. For non-USA 3 current value (USA only) stamps or $3.00 is sufficient. If payment is made by credit card WAC will deduct all appropriate fees upon completion of award processing. (This is the best and most efficient method of making payment).
Applications may also be sent to:
The ARRL Awards Branch
WAC Program
225 Main Street
Newington, CT USA 06111
USA

Forms:

WAC Program Form
Five-Band WAC Form
Note: As a pilot program, some IARU member societies are equipped to check and issue WAC awards themselves without the need for sending anything to ARRL. To see if your home country is conducting these awards themselves, contact your local ARRL approved DXCC card checker.

USA applicants must be an ARRL member and non-USA applicants must be a member of an IARU member society. More detailed information regarding awards is available at:www.iaru.org/worked-all-continents-award
Confirmations may be submitted in the form of QSL cards with the application form, or, QSOs listed in an applicants DXCC award account in the DXCC computer system. QSO confirmations in ARRLs LogBook of The World (LoTW) system cannot be used for WAC confirmation at this time.

Applicants who use the confirmed QSOs in the DXCC computer system may complete the application form and send it to the WAC desk by regular mail, FAX to (860)594-0346 or as an e-mail attachment to wac@arrl.org.
Applicants sending applications to WAC for contacts confirmed in the DXCC computer system MUST fill in on the application form the QSOs they want to use for WAC confirmation in the space provided.

Note: There is no Short-Wave Listener (SWL) category for this program.

Photocopies, e-QSLs and any other electronic method of QSL/QSO transmission cannot be accepted for this award.

The WAC Application Form is designed to allow applicants to apply for any WAC award and endorsement. 

The Five-Band WAC Form is designed to allow applicants to apply for the 5 Band WAC award with any endorsements.

Remember, contacts in LogBook of The World (LoTW) are not eligible for use for the WAC award program.

Applicants for WAC must be a member of an IARU Member Society. For the USA hams who are members of ARRL qualify for IARU membership for this program. A complete list of IARU Member Societies can be cound at http://www.iaru.org/member-societies.html

Send WAC program questions to wac@arrl.org




 
LoTW and Worked All Continents
 

At this time LoTW is not configured for the WAC program. Contacts in LoTW themselves therefore cannot be used towards this award.

However, there is a way to do this in a way that satisfies the requirements for making a WAC application.

First, you must verify that you have at least 6 confirmations in LoTW that will give you 6 individual continents:

North America
South America
Africa
Oceania
Asia
Europe

Next you must do an application in the DXCC section to move these credits over to a DXCC account in the DXCC software. (Application procedure covered below).

Once you submit this application and the application is closed out you can now apply for WAC using these credits.

To make an application to move credits from LoTW to the DXCC program follow these simple and easy steps exactly as noted:

Sign in your LoTW account
Click the 'Awards' link
On the left 'Select DXCC Award Account'
On the left click 'Application'
On screen Part One select the QSOs you want to apply towards the six continents
(Here you can do just what you need or, if you want you can select more QSOs here to begin your participation in the DXCC award program)
Follow the screens to Part Four
In Part Four you can use the Comment box where you note that your application is only to apply for WAC and that the paper application is forth coming.
Below this is the payment screen. You can enter your credit card information here and your application will be processed within a few working days, or, if you choose 'Paymeny By Mail' you have 30 days to make payment to ARRL. If payment is not recevied after 30 days your application will expire and may be subject to cancellation.

The fee for making an application to bring DXCC QSOs in the DXCC program using LoTW is:

$5.00 - All ARRL members plus $0.12 per QSO
$10.00 - All non-USA non-ARRL members plus $0.12 per QSO

Once this is completed applicants can then prepare their WAC application. The fees for this are noted in the WAC rules and on the current WAC application form.

Remember, in order to apply for the WAC award applicants MUST be a member of an IARU society. For the USA ARRL is the IARU member society for the United States. The complete list of IARU member societies can be found at:

http://www.iaru.org/member-societies.html