Worked All Continents
Sponsored by the International Amateur Radio Union (IARU), the Worked All Continents award is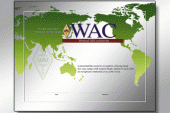 issued for working and confirming all six continents. These are North America, South America, Oceania, Asia, Europe and Africa.
The cost of the WAC award certificate is $16.00 for U.S. and $18.00 for international mailings. Endorsements are available for $7.50. For multiple endorsements enclosed with one application or multiple applications, the fee is also $7.50 each.
Five-Band WAC
A Five-Band Worked All Continents award is also available. You must work and confirm all six continents on each of the 5 primary Amateur bands of 80, 40, 20, 15 and 10 Meters. When these band awards are completed, endorsements are available for the remaining amateur bands except for 60 meters. The Five-Band WAC is strictly a band-only award and it cannot be endorsed on any mode.
The cost for the Five-Band WAC award certificate is $16.00 for U.S. and $18.00 for international mailings. Postage for card return is required; U.S. mailings are $3.00, and international mailing is $11.00.
Applying for the Award

WAC program applications can be checked by an official ARRL DXCC card checker. Card checkers can be found here. Official DXCC card checker. In addition, any Official Awards Manager from an IARU member society may check WAC applications.
To determine which continent is associated with a particular DXCC entity, visit this site for the complete list of DXCC entities that includes the continent associated with each entity. Sufficient postage for the return of paper cards is required in addition to the award fee(s). The postage for WAC certificates is $16.00 for mailing within the U.S. For international postage the cost is $18.00. Postage for card return for U.S. mailing is $3.00; international mailing is $8.00. If payment is made by credit card, WAC will deduct all appropriate fees upon completion of award processing. This is the best and most efficient method of making a payment.
Applications may also be sent to:
The ARRL Awards Branch
WAC Program
225 Main Street
Newington, CT USA 06111
USA

Forms:

WAC Application Form
Five-Band WAC Application Form