ETP Grants
Through our Education & Technology Program, ARRL offers grants for radio station equipment and related software equipment and resources for schools in the US. The application requirements are straightforward: we look for commitment from teachers and school administration, a well conceived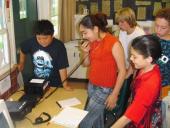 plan to use the resources to engage students, and a working relationship with local ham radio volunteers who will provide mentoring support for the school. Grant applicants must be a current ARRL member to be eligible to apply.

The Education & Technology Program offers two types of grants.
ETP School Station Grants are awarded to schools that provide a plan to use Amateur Radio as part of an enrichment program and/or as part of in classroom learning. 
ETP Progress Grants offer modest support to those teachers who are currently using Amateur Radio in their classrooms as an instructional tool and who need additional resources for specific purposes, or for teachers who need resources to get started instructing wireless technology and electronics topics as part of a longer range plan to involve Amateur Radio.
Review and download the ETP Grant Application here.

APPLICATIONS WILL BE ACCEPTED FOR REVIEW BETWEEN OCTOBER 1ST AND OCTOBER 31ST