Grants to Amateur Radio Organizations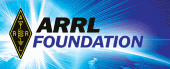 The ARRL Foundation generally awards initial funding to organizations for new Amateur Radio related projects. The funding awards range from $1,000 to $3,000, with most awards approximately $2,000.The Foundation does not award follow up grants.
The ARRL Foundation does not wish to be the sole funder of an Amateur Radio project and gives preference to groups that successfully conduct  fund raising locally before submitting agrant application. Proposals with strong and on-going fund raising initiatives are preferred.  Please note the ARRL Foundation funds programs and progects within the United States.
The focus of the grant program is to support Amateur Radio organizations with programs to educate, license and support Amateur Radio activities with emphasis on youth-based activities.
The ARRL Foundation does not fund emergency communications equipment vans, equipment or facilities. Groups seeking such funding are encouraged to contact local resources that have a stake supporting Amateur Radio's success.  The ARRL Foundation does not fund on-going operations or expenses. It is rare for the Foundation to award a grant for more than one year or to renew a prior grant.
ARRL Foundation awards may be General Fund Grants, or may qualify under one of the following Special Programs:
Victor C. Clark Youth Incentive Fund
CW Operators Educational Fund
The Alfred E. Friend, Jr., W4CF Educational Activities Fund
Questions about the grant-making process and contributions to the ARRL Foundation may be directed by email to foundation@arrl.org.