How to Make Your Gift to the ARRL Foundation
Thank you for your interest in making a contribution to the ARRL Foundation.  You may make a gift to the ARRL Foundation General Fund that provides grants to Amateur Radio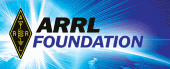 organizations, to one of several Scholarship funds, or to the ARRL foundation General Scholarship Fund. 
If you wish to make a memorial contribution, be sure to provide the information so we can advise the family of your generosity.  There is a section of the donation form for that information. 
The ARRL Foundation does not accept contributions electronically, so please print and complete the form below and mail it to the ARRL Foundation, 225 Main Street, Newington CT 06111-1494.
We appreciate your support for the work of the ARRL Foundation in providing grants to promote Amateur Radio and to offer more than 50 scholarships for young hams seeking higher education.
If you have any questions, contact the ARRL Foundation at 860-594-0291 or by email at foundation @arrl.org.
ARRL Foundation Donation Form