CONTACT!


Vol 8, No 1
January 2010

IN THIS EDITION:

ARRL's new website
Examiner.com
A Christmas Project
Nate Brightman – McGan winner
The Last Word - Baloney! and other things


-----------------------------------
What's in ARRL's new website for YOU?

Among the many new things coming soon to www.arrl.org will be the ability to quickly post media hits that I see from around the country. Even after deleting the usual club meeting announcements, obits, and other minor listings – it can be a considerable list. Just for fun, here is a list from the Christmas vacation period:

When power is out, 'hams' pipe up
Columbus Dispatch
The ham-radio operators relay messages and help when all else fails in our high-tech world. Last January, members of the Hocking Valley Amateur Radio Club ...

Ham operators communicate behind scenes on national network http://www.yourcarlynton.com/news/article/ham-operators-communicate-behind-scenes-national-network

2010 - A Linux Odyssey.
Linux Journal
One, as the control op here at the Linux Journal 's Virtual Ham Shack, I am going to start the process of converting my few Amateur Radio programs to Linux. ...

Who's Afraid of Amateur Radio? Tsunami's heroic technology has few backers in ...
Groundviews
Five years ago, in the immediate aftermath of the Indian Ocean Tsunami, amateur radio helped revive emergency communications with some of the worst affected ...

Movers and shakers
Aurora Beacon News
Carlson has been an amateur radio operator for 40 years, enjoying experimentation, designing radio systems and making long-distance international contacts. ...

Santa Claus Is Cleared For Take Off
The Daily Record
As an amateur radio operator, Mr. Dunn also provided some insight into just how Santa travels around the world on Christmas Eve. "He gets on the radio and ...

radio group gains nonprofit status
Cape Gazette
... in the world - as it doesn't rely on phone lines, cell towers, the internet or commercial power - amateur, or ham, radio is simply extremely reliable. ...

Ham radio club enthusiasts have hobby that also helps in crises
Picayune Item
PICAYUNE — Mention the term "Ham radio operator" to most people, and they will envision an old codger, puffing on a pipe or cigar, sitting in his shed by ...

Radio amateurs urged to report weather
Cape Gazette
For the duration of the current weather event, the Sussex County Emergency Operations Center and Sussex County Radio Amateur Civil Emergency Services ...

Q&A with Santa
Burns Times Herald
Amateur radio is my favorite hobby. I can talk to my friends all over the world and at the North Pole we can put up any kind of antenna we wish. ...

Sussex Amateur Radio Assoc. receives 501(c)3 status
Sussex Countian
By the Countian Staff The Sussex Amateur Radio Association – the largest amateur radio organization in the First State, whose members have long provided ...

Gracing the community: Don Kelly represents spirit of gentility, quiet and ...
MyWestTexas.com
In the 1990s, Don opted to study Amateur Radio, a regimen that tested his mettle, and found encouragement in mastering the International Morse Code for the ...

'Koala Talkers' dig ham radio at DeLand school
Daytona Beach News-Journal
Samara is one of the "Koala Talkers," named for Starke's school mascot, who are learning about ham radio with the help of volunteers from the Daytona Beach ...

Ham Cramwich: $25000 Of Communications Gear In A $500 Car
Gizmodo.com (blog)
Ham radio appears to be more of an addiction than a hobby to the seller of this $500 Dodge. Every surface is covered with $25K in communications equipment .


There's more, but you get the idea.
The new website should be up by early February.
____________

Examiner.com
Examiner.com is looking for topical writers!
http://wwww.examiner.com/assets/examinerfaq.html
This is one time "pecuniary interests" mixed with the hobby are not a bad thing!

Charles Van Sant, K7WLW, writes:

Hi.....thought you would like to know about a new series of articles I am doing about amateur radio through examiner.com. It is on the Cincinnati Radio Hobby page.

This challenging economy is forcing a lot of us to look at new ways to earn a living. I have been working part-time as a newscaster for WHIO Radio in Dayton. But I was also looking for something where I could develop my writing skills.

I had seen the Examiner.com ads on Career Builder and Monster, and decided to check into it. The organization operates on-line websites in many major cities, and is always looking for writers and photographers. You can contact it at www.examiner.com and learn more about available opportunities. The website approved my request to do a column on amateur radio, and my stories fall under the 'Hobbies and Games' category in the Cincinnati Examiner.

I am not doing this to get rich, but to interest people in finding out more about amateur radio. Writers are paid one cent per read. Once the writer earns $25, the money is sent to a PayPal account. But I now have eleven articles I can show to a potential employer, and overall reviews from my ham friends have been positive.
My purpose is to get some interest in ham radio by the general public. If they read my articles, perhaps they will want to learn more. And maybe they will get their license!

I have included links to ARRL in previous articles.

Again, these are simple articles. They are not complex. Just enough for a taste!

73 de K7WLW

http://www.examiner.com/examiner/x-28029-Cincinnati-Hobby-Radio-Examiner~y2009m12d8-Outstanding-transmitter--lousy-antenna--nobody-will-hear-me

---------------
A Christmas Project

Many clubs have their leaderships' terms of office start in January. As you plan for 2010, here's a good idea you can build on!

Tony Mancuso, KG2BV, writes: A Christmas Project that our Club has now completed for our 3rd consecutive year. Our Club is the Central New York Amateur Radio Association, Inc. We are a new Club. We are also an ARRL Affiliated Club. I think the story has a great creative and humanitarian quality to it and I think the ARRL may find it worthy of publishing and may inspire other Clubs to do the same.

The basic storyline is as follows: Three years ago (Christmas 2007), a local Ham came on the air during our "First Cup Net," which is a morning net we operate during winter months for Hams travelling to and from work. He put out a basic request for a family in need. Our Club had actually not formally formed yet. Regardless, a group of us got together and rallied behind the call. We put announcements on the repeater during the net and on other nets calling for donations for a Christmas Family donation. We secured a profile of the Family and would receive money, food and gift donations. 100% of all donations received were provided to the family. The twist was that one Ham who had availability of a Santa & Mrs. Clause suit would play the role of Santa and deliver the presents and Christmas Dinner. The project was a huge success.

Early in 2008, The Central New York Amateur Radio Association, Inc. was formed and shortly after became ARRL affiliated. Among all of the routine public service events that many of our Members participate in annually providing communications for events such as the Boilermaker Road Race, the Ziyara Shrine Circus, Honor America Day Parade, MS & Diabetes Walks, ARES/RACES & SKYWARN, the Christmas "Adopt-A-Family for Christmas" became an official function of the CNYARA and was carried on.

Of course in 2009, we have just again completed our "3rd Annual Adopt-A-Family for Christmas. I think this kind of story is unique and a pure example of what "thinking outside of the box" can be accomplished with Amateur Radio. While all of us in the CNYARA routinely sit at check-points at public service events whenever called upon; when the races or functions are done and winter arrives, we still find a way to use our radio-sets for good will purposes. In addition, it is mainly and mostly because of the good-will and generosity from local Radio Amateurs that this program continues year after year.
73,
Tony Mancuso, KG2BV

-----------------
Nate – "Ya dun gud!"
Nate Brightman, K6OSC, received the ARRL 2009 McGan Silver Antenna Award from Southwestern Division Vice-Director Marty Woll N6VI at the December 4, 2009 meeting of the Associated Radio Amateurs of Long Beach.

----------------------------
The Last Word
(3 things)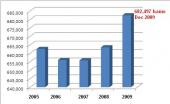 Notice something about this graph? Over the past 5 years, they are UP (far better than my 401k, which is now a 201k.). We just got in the finals for 2009 and there were 30,000 (yes, that's THOUSAND) new hams in 2009. Thanks to clubs, mentors, Elmers, teachers, VEs, PIOs and all the other people who are out there working and promoting the Amateur Radio Service.
How many will continue to be active remains to be seen, and it will take years to know. The initial impressions from my limited viewpoint are good. Just today I had a young lady come into my office all bubbly because she had not only beaten an old RTTY contest record – she had smashed it flat. She's been a ham less than 4 years. Another bunch of even newer hams wrote me today about getting into satellite work. I received a story for the website from another group who were into experiments with sending information across great distances of the night skies via special lights using QRP power levels. Take another look at that quick list of news hits above. We, we're changing!
But unfortunately today I also read yet another good news story where, right at the end, an unthinking and unknowing ham had to put in a quote to the reporter that "Amateur Radio is a dying hobby." BALONEY!!! (Yes, I get really frustrated when I see these things. Where's a PIO when you need one?)

For the past five years, more and more people are learning about and earning their Amateur Radio licenses with over 30,000 new hams in 2009. There are over 670,000 hams in the USA. Maybe we need to make up stickers about that and put them on every piece of mail, club document, QSL card and microphone so, sooner or later, some folks "get it" -Hopefully sooner.

2
This may also be the last edition of CONTACT! as you have known it in the past. With the new ARRL.org website coming out, I am hoping that February's issue will be on the new site and I can use some of the capabilities that it will have. I am really looking forward to that. You can help me. I will need short audio and video clips of ideas, activities, news events and other things which can aid PIOs around the country. If you have a good idea or a hint, put it onto video or mp3 audio and send it in!

3
Finally, I want to publicly say "thank you" to some special people. Each year the President appoints the members of the ARRL Public Relations Committee. These people keep me informed of what is happening, spot trends, do a lot of work behind the scenes, help out at Dayton, are my "sounding board" for ideas that come late at night and also do a lot to bring Amateur Radio to the public in their own home regions. For 2009 the Committee included:

V.Dir. Mike Raisbeck, K1TWF
Chairman Bill Morine, N2COP
Walt Palmer, W4ALT
Don Carlson, KQ6FM
Kevin Pauley, KB9WVI
Kevin O'Dell, N0IRW
Gary Wilson, K2GW
Gordon West, WB6NOA
Peter West, VE6HG, of RAC

Please join me in giving them thanks and a "well done" for another great year in PR.

Allen Pitts