Commemorative Display of the 1964 Amateur Radio Stamp First Day Issue Postcard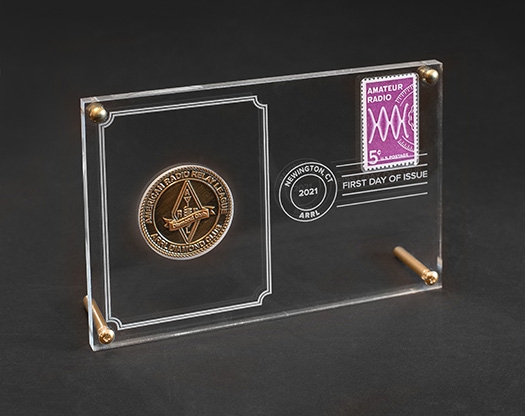 The Story
The 1964 Alaska earthquake, also know as the Great Alaskan earthquake, struck on March 27th, Good Friday. It is the most powerful earthquake ever to hit North America and devastated the area around Anchorage. The effects were felt as far away as California and 131 people died.
Buildings collapsed, roads caved in, and neighborhoods were reduced to rubble. The earthquake also took out telephone communications, which threatened to cut off Alaska from the rest of the world. But this did not happen, thanks to amateur radio operators. Watch this video to learn about hams' vital contribution to the earthquake response.
Amateur Radio Response to the Mar. 27, 1964 Alaskan Earthquake - 2 min.
Hover over the video to see the controls then press the play button to start.
The First Day Cover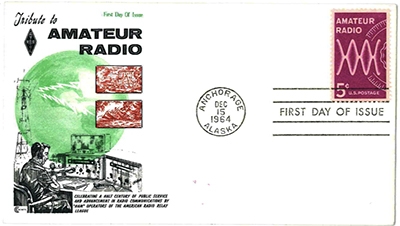 A First Day Cover is an envelope or card bearing a stamp which is cancelled on the day the stamp is initially placed on sale by the postal authorities. While most U.S. stamps are released nationwide on the first day, the USPS will designate a single city as the "official" first day city.
On December 15, 1964, the USPS issued a stamp in recognition of the public service contributions of a quarter million licensed amateur radio operators. This stamp celebrated the important work done by hams including their impressive operations during the Alaskan earthquake. The popular stamp debuted with much ceremony first in Anchorage, Alaska with repeat ceremonies the next day in Washington and throughout the country and the First Day Covers are a coveted collector's item.
The 2021 Diamond Club Premium
ARRL has designed a unique commemorative display honoring both this special Amateur Radio First Day Issue and EmComm's contribution to the Alaskan earthquake and times of crisis and natural disasters that have occurred throughout the years including Hurricane Katrina. The lucite 'postcard' features the original 1964 Amateur Radio Stamp as well as a specially designed Diamond Club Challenge Coin. This special piece will make a wonderful addition to your shack. 
Join or renew your Diamond Club membership at the $375 level or above and you will receive this piece of history! New and renewing Diamond Club members at the $100 level will receive the exclusive Diamond Club Challenge Coin. Quantities are limited, reserve yours today!**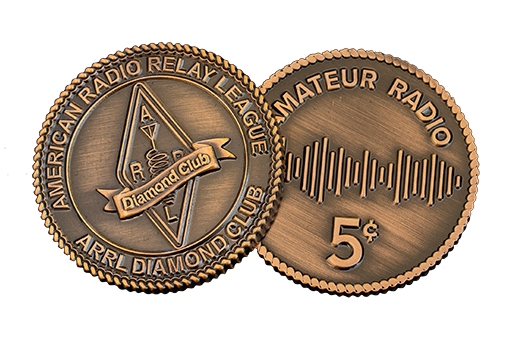 To learn more about the Diamond Club and the different levels and benefits, click here.
To learn more about the 2021 Diamond Club premium or to upgrade your Diamond Club membership, please contact Development Manager Melissa Stemmer, KA7CLO, at mstemmer@arrl.org or (860) 594-0348.
Do you have a personal story about the 1964 Alaskan earthquake that you would like to share? We would love to hear from you! Please submit your stories to DiamondClub@arrl.org
**2021 Diamond Club Premiums will begin shipping to members in April 2021.