Finding a Class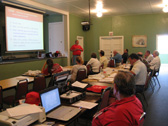 ARRL can help you find an Amateur Radio license preparation class in your community. You can search our database for upcoming classes near you.
As an alternative to classes listed in our geographic database that are offered in various locations throughout the US, click here to look for classes for license preparation offered online.
ARRL Instructors: List a License Class
Find an Amateur Radio License Class in Your Area
If you do not see a course in your area please keep checking this page. New courses are added daily.