Find an Amateur Radio License Exam in Your Area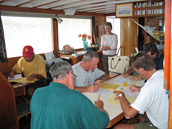 OPTIMIZE YOUR SEARCH: Less information entered in the search fields will return more information in the list. The more specific the search criteria, the less information returned. Zip Code searches can use the mileage range in the drop-down menu.
NOTE: Please check back as we update this page daily.
Exam Candidates: Exam Session Requirements
VE Teams: Register your Exam Session
Remote Video Sessions: If you cannot find an in-person exam session in your area or if you would rather take the test via a remote video-supervised online session, you can search for online examination dates here: https://hamstudy.org/sessions. Click on the box "Show online" to only display the list of upcoming remote video sessions.
Due to the Coronavirus outbreak, please verify with your
VE team that the exam session is being held.
Search for Exam Sessions
In the US you can search by ZIP code.
Please note that you should leave the rest of the search fields blank when searching by zip code, or the search may not work.