A scheduled ARISS contact is a voice-only communication via Amateur Radio between the International Space Station (ISS) crew and classrooms and communities.  ARISS contacts allow education audiences to learn firsthand from astronauts what it is like to work and live in space. These scheduled contact
opportunities are offered to formal and informal education institutions and organizations, individually or working together.  The radio contacts are approximately 10 minutes in length due to the radio communication window permitted by the logistics of orbital passes of the ISS.  During the contact, students interact directly with astronauts and cosmonauts during this communication window using a question and answer format.
To maximize these radio contacts, the ARISS program looks for organizations that will draw large numbers of participants and integrate the radio contact into a well-developed education plan.  Because of the nature of human spaceflight and the complexity of scheduling activities aboard the ISS, organizations must demonstrate flexibility to accommodate changes in contact dates and times.
U.S. education organizations interested in hosting an ARISS scheduled contact will find information about submitting a proposal below.  International schools should submit applications following instructions provided on the ARISS Program website.
Educational proposals should include plans for students to:
study topics related to space technology, space exploration, or space research, and,

learn about communication, wireless technology, and radio science
The more advance preparation educators make with educational plans, the more learning and value the ARISS event will have for students.  Imagine your students interviewing an astronaut in space, maybe even using an antenna your students have assembled!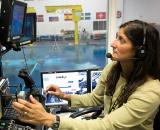 ARRL's Education & Technology Program and NASA offer valuable resources to help you and your students learn about wireless technology and satellite communications and space exploration.  Go to ARRL's web page: Preparation for an ARISS Contact for links to those resources.  
An ARISS Technical Mentor is assigned to assist education groups whose proposals are selected for an ARISS contact to help with technical coordination of the contact. With the assistance of your ARISS Technical Mentor, ARRL and AMSAT will help you find a local Amateur Radio group to provide the equipment and expertise. In some cases, local ham radio club volunteers may also be able to assist with lessons on communication, wireless technology, or radio science.