Transmitters and Intentional RF Emitters
The files in this section are recordings of RF noise from known transmitters and RF emitters. If you can match noise at your location to one of these files then you can be confident that you know where your noise is coming from. Now all you have to do is find it and fix it!

458 kHz USB, in the longwave band
Contributor: Ken, VE3HLS
Noise Source: Unidentified
Where Found: 458 kHz USB, in the longwave band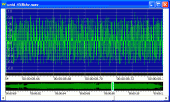 CODAR
Contributor:Ken, WB0OCV
Noise Source: CODAR
Where Found: 60m band
Notes: CODAR is a type of HF radar, commonly used for mapping the ocean's surface and currents. A Google search on CODAR will turn up many useful references.
Note: There are three separate groups of "sweeps" in the recording. I believe the first group was recorded in LSB, the next group in AM and the final group in USB.