Explaining the principles of radio science in the context of an Amateur Radio licensing class  takes hard work and dedication.  That's why we support ARRL–registered volunteer instructors.and classroom teachers.  The results are extremely gratifying, especially when newcomers earn their own licenses and begin enjoying their new privileges on the air.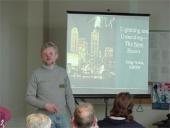 Register with ARRL as a License Instructor and take advantage of the Instructor/Teacher Discount Program on purchases of instructional materials.  We'll add you to our electronic mailing list to keep you up to date on resources and programs you may find valuable to your instruction and classroom activities.
Please review ARRL Registered Instructor Qualifications.