ARRL's Membership Journal

ARRL's Monthly Membership Journal QST is the most widely read Amateur Radio publication in the country. Join now and enjoy for yourself!

Forum for Communications Experimenters

Published bimonthly, QEX is the place to turn to find out what technical advances Amateur Radio operators are doing to further the radio art.

National Contest Journal

Published bimonthly, NCJ features articles by top contesters, letters, hints, statistics, scores and more!
Join ARRL Today!
By becoming a member of ARRL you receive ARRL's popular membership journal QST, each month.
Each issue is packed with the information, news, construction projects, and tips and techniques you need to get the most out of your Amateur Radio experience – whatever your particular interests might be. You'll find antenna designs, accessories, the most complete and reliable product reviews, and an impressive lineup of columns covering public service, contesting, vintage radio and DXing…to name only a few.
Join Now and start receiving QST today!
QEX: The Forum for Communications Experimenters
Each issue of QEX brings a variety of practical and theoretical articles, covering RF techniques and equipment--digital and analog, HF through microwaves; antennas and propagation;  components and building blocks; design and analysis software; power supplies; oscillators and synthesizers;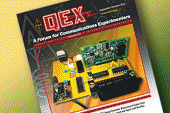 and much more.
QEX is published bimonthly.
NCJ: National Contest Journal
The best news and information for contesters! NCJ is packed with a mix of articles on operating techniques, antennas, and station design; news and ideas from contesters around the world; and expert advice for better scores.
NCJ is published bimonthly.