VEC Software Information
2020 EXTRA POOL NOW AVAILABLE IN THE SOFTWARE UPDATE MENU.
==============================================================
The ARRL VE Exam Maker software package is a program for Windows® and Mac® to generate printed exams.  This software is capable of updating question pools, specifications and software updates directly online, easing the difficulties of staying up-to-date with changes as they occur.

The page requires Adobe Flash Player. You may be prompted to upgrade the installed version of Flash Player if you do not have a recent version installed.
Internet Explorer is the Recommended browser.
The installer WILL NOT work in Firefox.
Mac users will need to access the link below using Safari.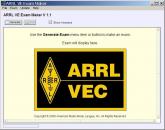 Detailed instructions are shown below.