Tracking ARISSat

Students at Dowagiac Middle School in Michigan prepare to track ARISSat to receive telemetry data.

Listening to the Satellite Beacon

Students record telemetry from ARISSat.

CSI Space: What's Going on With FUNCube?

What story does the data tell? Join the investigation!
Bringing Space into the Classroom
Bringing space into the classroom is an incredibly powerful learning experience for students. The marriage between wireless technology literacy and space literacy is a strong one that produces a portfolio of activities that can engage virtually all students at some ability and interest level.
The portfolio of activities can range from simply having a satellite prediction software package running in the back of the classroom on an old, salvaged computer, a simple receiver to collect telemetry data from orbiting satellites, to a full-up ground station to communicate with other hams via satellites, or even with the astronauts in the International Space Station through the ARISS (Amateur Radio on the International Space Station)  program.

---
CSI Space: What's Going on With FUNCube?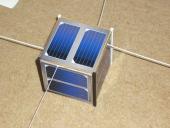 What does the data tell us?
 Join the investigation!
New Resources for Classroom Instruction
For an overview of recent addtiions of classroom resources designed to help teachers instruct students about research projects to be launched by AMSAT on its Fox satellites, view a video of a presentation by Mark Spencer, WA8SME at the 2013 AMSAT Symposium. Details of these resources are provided below.